Bring Your Horses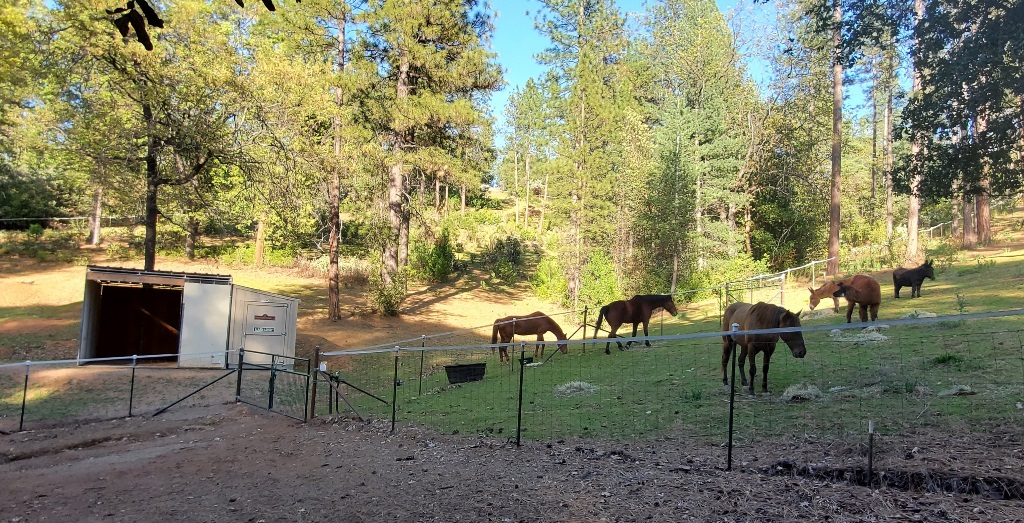 If you want to bring your own horses while visiting the Dog & Pony Ranch, we have the following facilities for guest horses (note: our own horses, llamas, mini donkeys and chickens will be in adjacent main pasture though they usually stay up near barn where they get fed so we recommend bringing more than 1 horse):
12x12' rubber-matted 3-sided shelter in separate ~3-acre pasture
4' field fencing with white tape top for visibility (not electrified, no barbed wire)
Water tank with double-filtered well water
Hot & cold water wash at the barn's covered tie rail
Trailer parking space near barn
Riding in 80x180' sand arena and 60 acres of trails
Many more miles of nearby trails to ride at Lake Tabeaud and Lake Camanche including the Mokelumne Coast to Crest Trail
Contact Cyndi if you are interested in bringing your horses with you during your Dog & Pony Ranch vacation. There is an additional $25/night/horse fee. You can feed your horses using their standard feed, or we can sell you some of our hay.
The horse areas are a short walk from the house as shown in satellite view. Please only bring horses that are UTD on shots and free from any contagious diseases (as are our animals).