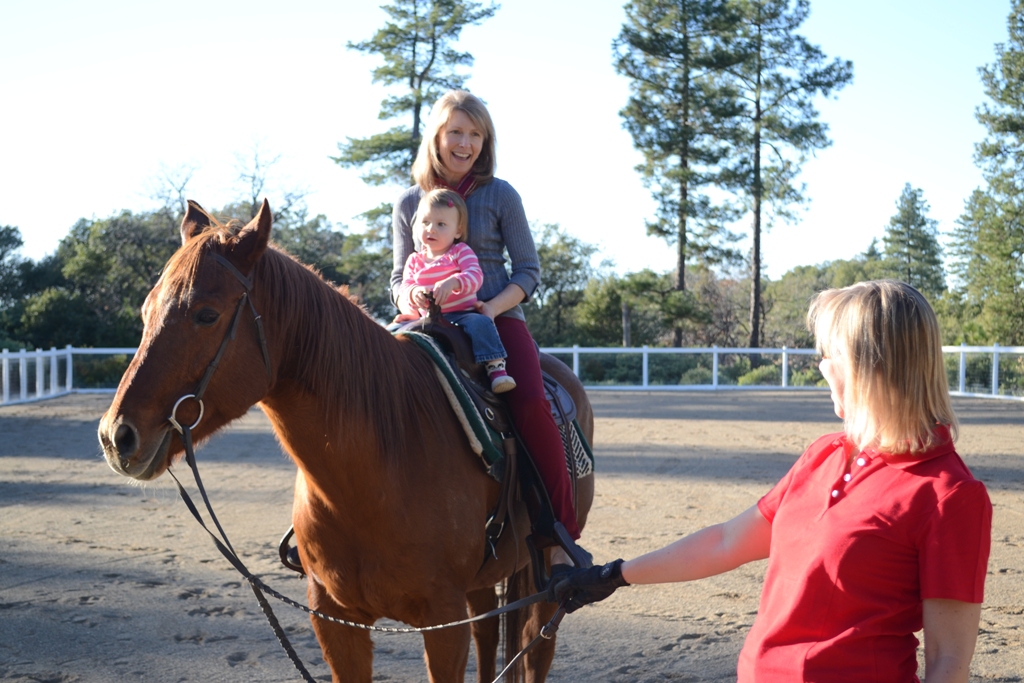 Ranch Livestock
Fun Farm Stay Experience with Horses, Llamas, Donkeys, Cattle & Chickens!
The Dog & Pony Ranch is a great place for you and your dogs to safely meet these types of animals. See below for photos of previous guests' interactions with our livestock.
You are welcome to pet our horses, donkeys, cattle and llamas over the fence if they approach you. We (or our pet sitter when we're not onsite) feed the animals late-afternoon each day (they have auto-feeders for other meals) so this is a good time to visit the barn if you want to meet our livestock, give them treats and take some fun photos. Guests are also welcome to enjoy our farm-fresh pasture-raised chickens' eggs which we stock in the guest kitchen refridgerator (typically a dozen).
Llama Walks and Horse Riding
When we are in residence (see calendar for hosted visit dates), we offer additional options such as "llama walks" for a unique photo opportunity. We don't have a string of rental horses, but our well-behaved horses have been great teachers for our nieces and nephews over the years. You can learn to groom and tack the horse, get a lesson in the arena and/or a trail ride around the property. Or just take some photos with them -- our 2 horses are now in their 20's so don't do high performance work like they used to do, but really riding and controlling a horse is an awesome experience compared to nose-to-butt trail rides. Let us know what you want and we'll provide a custom quote (for example, $20 to take 2 llamas on a ~30 minute walk, $75 to groom/tack/ride a horse in a private ~60 min session).
If you are looking for a trail ride for your whole group, we can recommend nearby horseback riding options. If you have your own horses and want to enjoy them while on vacation, see our Bring Your Horses page for details and info about our horse facilities.
More Info about our Barn Animals
Our cattle (Wilma & Betty) are Dexters which is a small cattle breed originally from Ireland. These heifers are polled which means they are naturally hornless. They are very food-motivated and anticipate meal time with cute "moo's". Guests can get up close to our girls and feed them their favorite cookie treats -- you might even get to feel a lick of their rough tongues. Dexters are very friendly so it's no surprise that they are often choses to be part of petting zoos.
Our llamas (Zuni & Llorenzo) with their distinctive ear shape are a favorite for unique photos. They also are very treat motivated and almost tickle your hand when nibbling grain from it. Llamas are highly sensitive (why they make great guard animals) so aren't fond of being petted, but we have some llama fiber shearing samples so you can feel how soft they are. We know you'll fall in love with llamas when you look into their big beautiful eyes.
Our horses (Amigo & Buddy) are eager for their carrot and apple treats, and enjoy attention and petting. They are on top of the pasture pecking order due to their size, so we usually feed the big boys first. Our quarter horse and mustang geldings are the most likely to come up to you at the fence line for petting and goodies. Buddy has an adorable habit of licking your hand, just like a dog but with a really big tongue!
Our mini donkeys (Millie & Mo) will be arriving at the Ranch around the end of February 2019. We met them in December and fell in love with these friendly equines. Mo is a black gelding and a very well-trained boy in both riding and driving. He's had many children ride on his back so is sure to be a hit with our guests. The female jennet was rescued from a Texas kill lot and is so sweet with appreciation for her new life. You can see her enjoying a neck stretch while giving us a "donkey hug". She's classic brown coloring with the donkey cross on her back.
Our chickens know daily barn visits mean yummies for them as well so they gather at their pen door. Their favorite treat is dried worms which is particularly fun for the kids to toss to the girls and thank them for their tasty eggs. Chicken races are a hit with our guests as well. We currently have 8 different breeds including an Easter Egger who lays blue eggs.
We also have feral barn cats (mouse warriors Zorro, Mulan, Athena, Perseus and Hercules) who help with rodent control, but it's highly unlikely that you'll see them. We find empty cat food bowls after nightly hunts and monitor them on the security cameras.
Please don't feed our animals except treats provided by us - the mini donkeys could choke if you give them a carrot.

Q: Will my dogs be safely separated from the other animals?
A: WE LOVE ANIMALS SO THEIR SAFETY IS A TOP PRIORITY TO US!!! Our horses, llamas, cattle and chickens are safely separated in a 7-acre pasture on the east side of the 60-acre property with ~4' high cross-hatched "field fencing" that should keep most dogs out of the horse / donkey / llama/ cattle/ chicken areas. Our fencing is more secure than most rural neighbors who fence livestock typically with 3-strand wire. Our chickens also have a predator-proof coop and run (fencing goes underground) so we haven't lost any to dogs or predators.

If you have very small or very determined high-prey drive dogs, we recommend that you leash them when walking near livestock pastures since they might find a way to go over or under the fence. Children should be supervised at all times as well to ensure they don't open gates and go into the animal areas. Guests allowing their dogs to harrass our animals, or people going into the horse / llama / cattle / chicken pens putting both themselves and the animals at risk will be asked to leave immediately per our rental agreement (our livestock areas are under constant video surveillance). So far, no issues which means we're happy to continue sharing our unique dog-friendly farm-stay with rental guests!