Farm Animal Idioms
By Cyndi | Jul 2021 | Barn Animals
Many English sayings have their basis in farm life and I've gotten to see these first hand while observing our barn animals over the years. Here are some of my favorite sayings that come from the people who lived around horses, chickens and other farm animals. Since most people are city-dwellers now, I use them to tell stories about our barn animals.
Common Chicken-Related Idioms
Animals are most content with a clear hierarchy and dominant leader. For the past couple of years, our smallest hen, Dot, a white Leghorn with a grey dot and an alpha attitude, has firmly kept the rest of her flock in line. Being in charge is not an easy job and Dot will even put herself between a threat and her flock – we even caught her on video outmaneuvering a coyote so the other hens could make it to safety!
Seeing Dot assert herself pecking at a new flock of young hens wasn't easy for us kind-hearted humans, so we gave the hens a reprieve with a separate higher roost bar in the chicken coop for Dot. Fortunately, all the new hens quickly recognized Dot as their leader but she won't hesitate to remind them if needed.
Our dominant hen demonstrates these phases regularly:
"Rule the roost" – have the most control and authority in a group
"Pecking order" – hierarchy of status in a group
"Hen-pecked" – used to describe a man whose wife/girlfriend always tells him what to do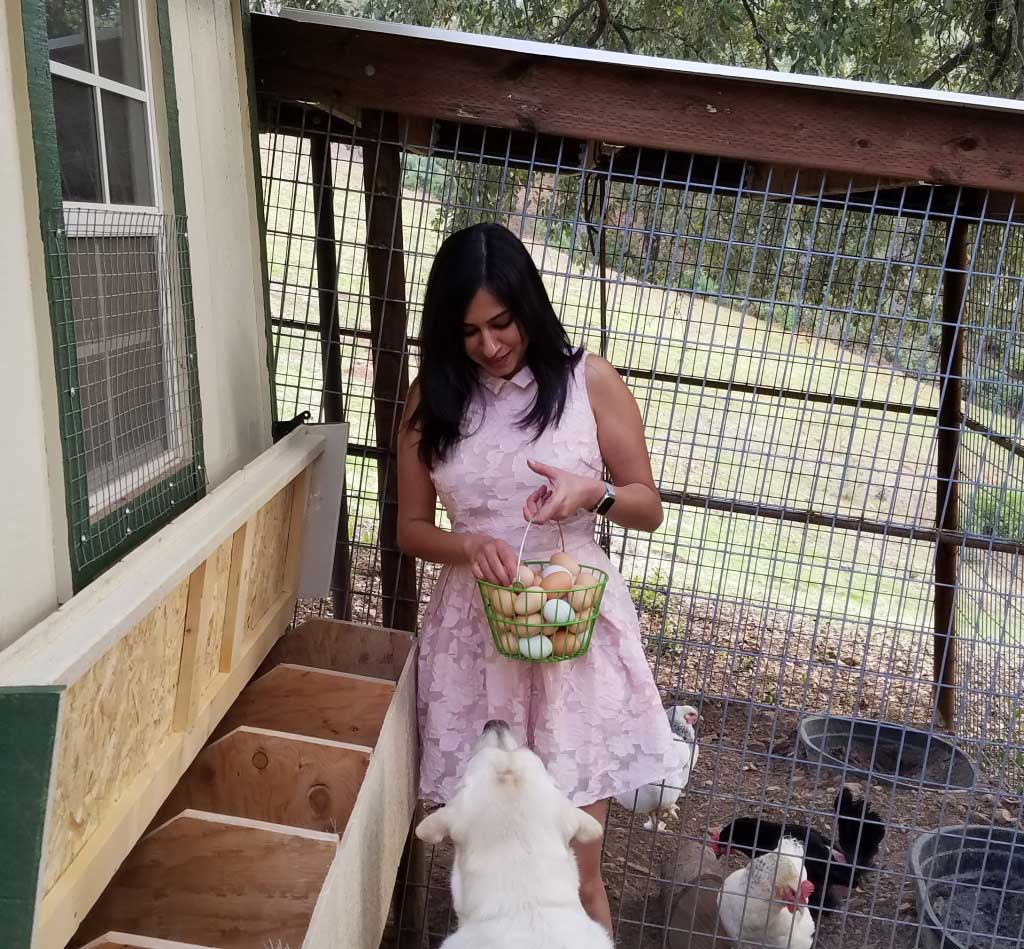 Other sayings relate to the fragility of chickens and their eggs. We get more eggs from our hens than we can use, but for farmers who counted on eggs and chickens for their livelihood, their fragility can be challenging as these phrases illustrate.
"Don't count your chickens before they hatch" – you shouldn't make plans assuming something good will happen before it has actually occurred
"Don't put all your eggs in one basket" – diversify instead of concentrating all your resources in one area

On a related theme of being fragile, several sayings extend this to being timid (we have one of these chickens too who is definitely at the bottom of the pecking order).
"Chicken-hearted" – fearful or cowardly
"Playing chicken" – two drivers race towards each other on a collision course and the one who swerves is called a chicken
"Like a chicken with head cut off" – in a frenzied crazy manner (I don't like this saying because of the visual reminder but it's a common phrase so including it)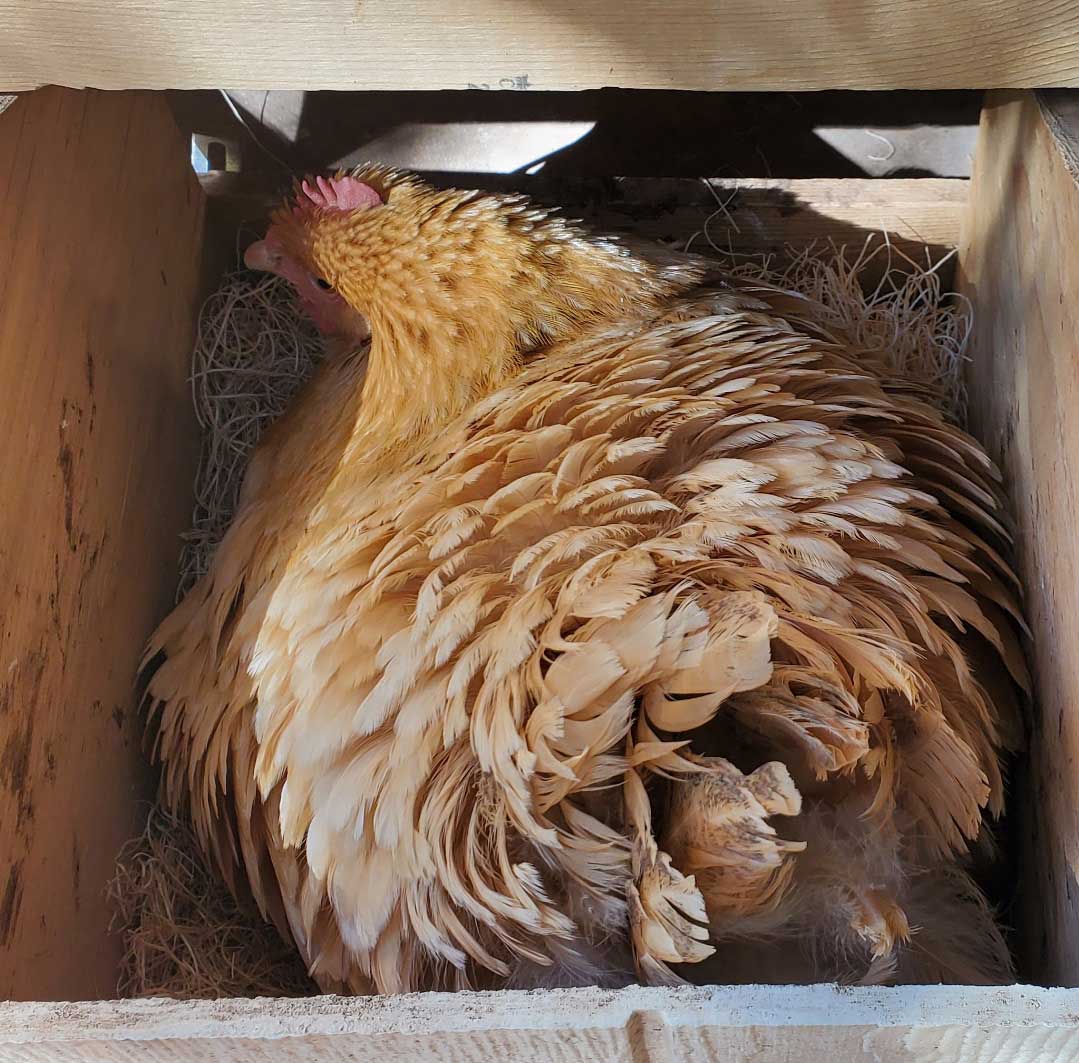 On the other end of the timidity scale are the broody hens who will sit all day/night on their nest to warm and defend their clutch of eggs for several weeks. Since we don't have a rooster, this is a wasted effort but that won't change the hormones of these committed hens! Our Buff Orpington, Buffy, has been our broodiest hen to date – mama bears would be impressed with how she guards her "babies", fluffing out all her feathers to warn me away from her eggs as she is doing in this photo.
"Mother hen" – protective maternal attitude
"Broody" – thinking and worrying about something, especially related to wanting a baby
"Ruffle your feathers" – cause to become annoyed or upset
Common Horse-Related Sayings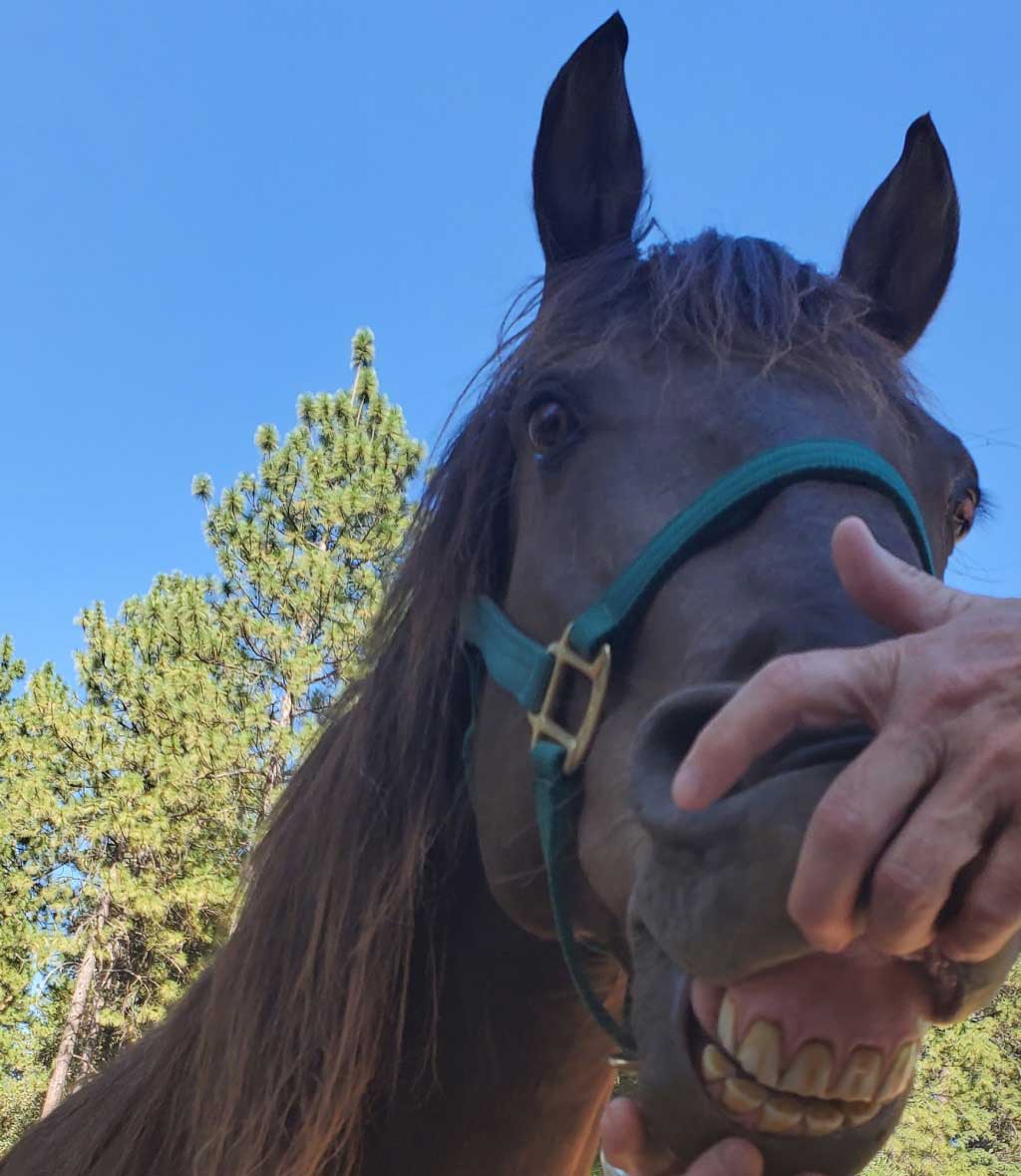 Many guests are surprised when I show them a specimen jar containing a tooth that had to be pulled from one of my older horses and explain that the bad tooth was found during the horse's annual dental work. In the wild, eating grasses all day grinds down horse teeth (plus horse don't live as long in the wild, nor have bridle bits in their mouths) so nature has horses' teeth continually grow. Domesticated horses need their teeth to be filed down each year (aka "floated"), but even with floating, much can be determined about a horse's age by looking at their teeth. My 11-yr old horse, Rio, still has beautiful teeth in this photo, but continually-growing-teeth helps explain how these idioms originated.
"Long in the tooth" – getting old (human teeth don't continue to grow so it's also an unflattering comparison to a horse).
"Don't look a gift horse in the mouth" – impolite to question the value of a gift (an older horse typically has less value).
"Straight from the horse's mouth" – the real story and truth (a horse-seller might say the horse is younger than teeth prove they are; horse-racing outcomes best predicted by those closest to hear it directly from the horse)
"Put out to pasture" – make someone retire due to age (though I know my horses are quite happy in their beautiful pasture in their semi-retirement)
I had heard the "lead a horse to water" proverb for years but unfortunately experienced it one summer with my horses. We were still living in the Bay Area and boarding our horses when I noticed both of my middle-aged Quarter Horses started doing poorly and not drinking/eating. I was about ready to call the vet but didn't have much to tell him. Over the next few days, I found that they would practically pull me to the turn-out pasture where they drank LOTS of water from the stock tank and then would start eating again back in their paddock. I researched and tried many things starting with cleaning their water tank (multiple times), putting yummy additives in their water, and even buying a new stock tank. Nothing was working when I'd lead them to their newest water source and try to get them to drink, but at least they were drinking as much as they could from the shared stock tank in the turn-out area.
Working around their water tank, I noticed quite a few yellowjackets were buzzing around the water and it seemed like it was a bad summer for yellowjackets. So, I hypothesized that my horses had both been stung repeatedly while drinking water which scared them enough that they were willing to not drink (I think they were willing to die before drinking that water again). I bought a long hose and moved their water tank to another location in their paddock and they were happy to drink from their stock tank again! Fortunately, this story had a happy ending, but it was a scary way to experience this phrase first-hand.
"You can lead a horse to water, but you can't make him drink" – can provide an opportunity but can't force someone to take it
"Changing horses mid-stream" – don't alter your plans in the middle of a project (could get quite wet!)

These are other common sayings related to horse behavior, so I'll include them here.
"Put the cart before the horse" – doing things in the wrong order
"Don't shut the barn door after the horse has gone" – taking action too late to prevent something (our horses like to stay near the barn for food/water, but one of our llamas escaped for a walk-about once when we accidentally left a stall door open a bit!)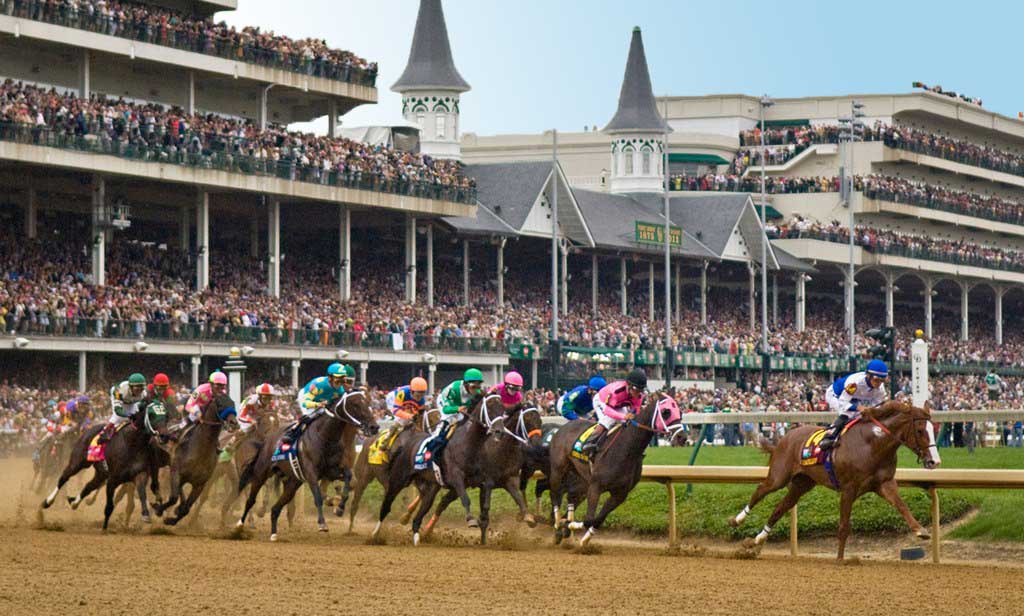 Quite a few sayings are based in horses' strength and speed – watching them run is a beautiful sight! Our personal trail horses were chosen because of slow and calm temperaments ("more whoa than go" as horse people will say) but far more horses are bred to run, especially breeds like Thoroughbreds (racing) and Arabians (endurance). Horses were primary transportation for centuries so most everyone could relate to these sayings.
"Hold your horses" – wait or slow down (this phrase dates back to Ancient Greece and chariot race)
"Champing/chomping at the bit" – eager to start (horses often chew on their mouthpiece when frustrated about not being able to go)
"Back the wrong horse" – make a wrong choice by supporting person/action that fails (related to betting on a horse that doesn't win the race)
"Dark horse" – a lesser-known contender who unexpectedly wins (originating from horse racing, but often applied to other sports or politics)
"Wild horses couldn't drag me away" – very determined to do something or stay somewhere (included in a popular Rolling Stones song)
"Beat a dead horse" – wasted effort since no chance of changing the situation (this is another phrase I really don't like the visual, but am including since very common)
Common Dog-Related Sayings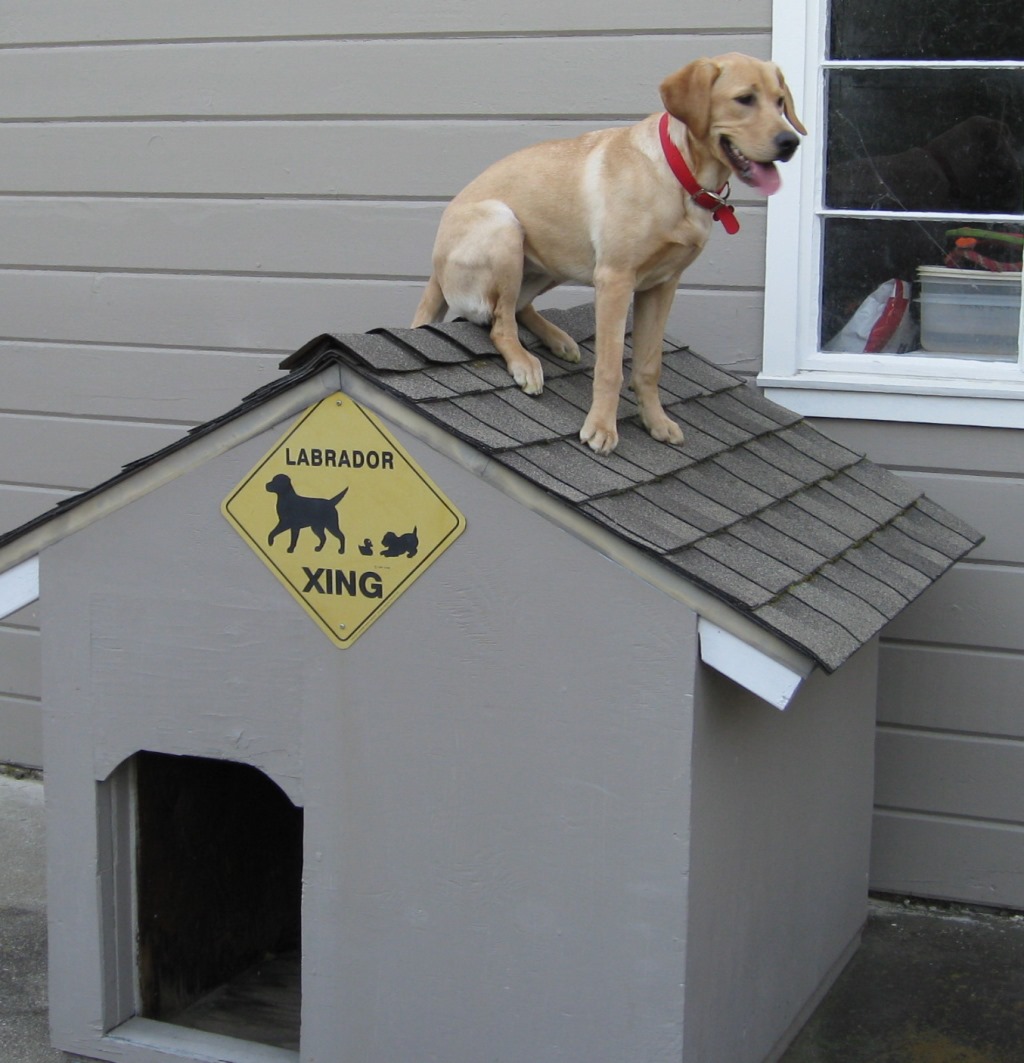 Most people who read our blog have dogs so probably can relate to these sayings. I also had to include some dog idioms since I have so many cute photos of dogs!
"In the doghouse" – someone's actions got them in trouble (our dogs live inside with us but had a token outdoor doghouse they never used, but Hannah thought it was fun to be ON instead of IN the doghouse)
"Tail between the legs" – feeling ashamed or embarrassed, especially after defeat or punishment
"Barking up wrong tree" – taking the wrong course of action with a mistaken objective (like a hunting dog)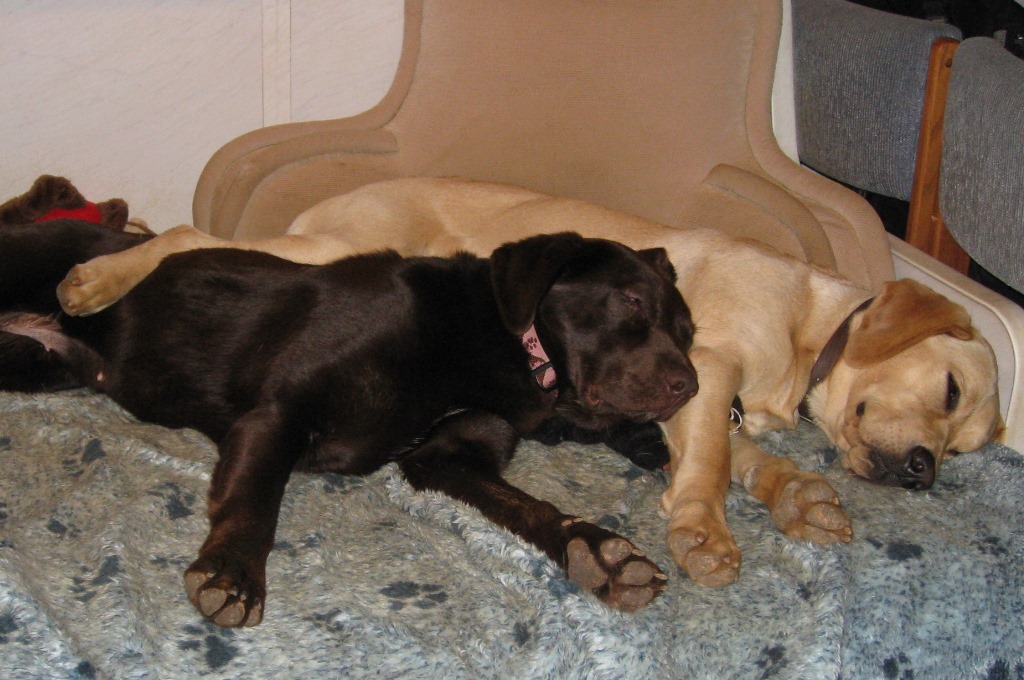 This is one of our foster dogs crashed with Hannah after running around our 60-acre ranch! Cocoa was a young, abused puppy when we fostered her and her growing trust of us was something we will never forget. We were cautious to not disturb her when she finally had some peaceful sleep so seemed a fitting photo for this next idiom.
"Let sleeping dogs lie" – leave a situation as-is if disturbing it could cause trouble
"Bark is worse than his bite" – a person's words may be unpleasant but unlikely will take hostile actions (unfortunately, Cocoa suffered both. We really don't understand how people can hurt other people/animals and do what we can to promote kind behavior)
There are so many more animal sayings – what are your other favorite animal-related idioms?!