Cody's Corner
By Cyndi | Jan 2021 | Dog Life
Our yellow Labrador Retriever, Cody, has developed quite a fan following and become a spokes-model for our Ranch so he deserves his own web page! Cody is our 6th Lab and his personality is ideally suited for his canine host role. Cody gets excited when guests arrive and loves to greet newcomers who he's sure came to the Ranch just to play with him. Here he is with a favorite pair of regular canine guests who we call his "golden girlfriends".
Note: please let us know about any "issues" with dogs you want to bring to the ranch -- we can accommodate "dogs who don't play well with others" and will coordinate with you for offleash time beyond the fenced yards (we only have one set of guests at a time so no worries about other dogs on the 60 private fenced acres).
Cody greatly enjoys his canine host duties at the Ranch and usually joins guests for an arrival day orientation walk to the barn -- he is happy to point out all the best sniffing spots along the trail and leave lots of pee-mail for the wild critters. Guests with dogs who don't spend much time off-leash quickly see how nicely their dogs run the trail with Cody while usually not straying far from their people. Cody helps get the other dogs in position on the picnic table for view spot photos, though he often ends up photo-bombing.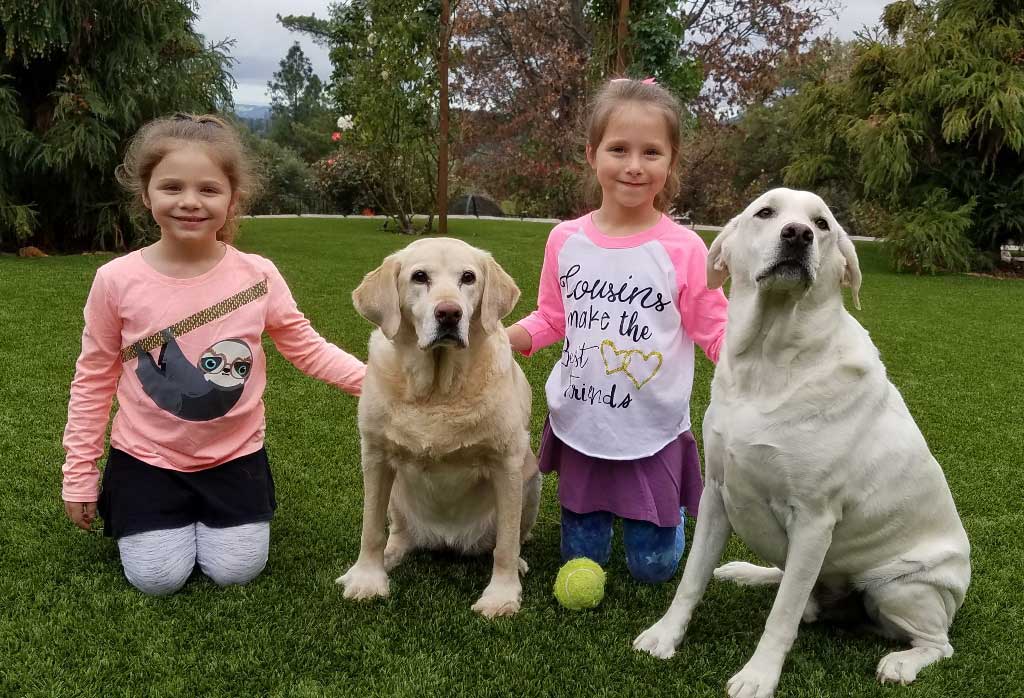 Cody has a very happy life and is a poster-child for adopting a rescued dog. He was originally purchased from a breeder by a busy family who didn't realize how much time and energy puppies required. He and his litter-mate destroyed the house and Cody ended up with serious separation anxiety. We adopted Cody when he was 18 mos old and quickly worked through his minor issues. Now he's rarely by himself and gets lots of exercise running 60 acres every day. The one thing he does miss from his original family is children. Cody LOVES to give kisses, cuddle and sit on laps if allowed -- kids all want a "Lap-rador" like Cody.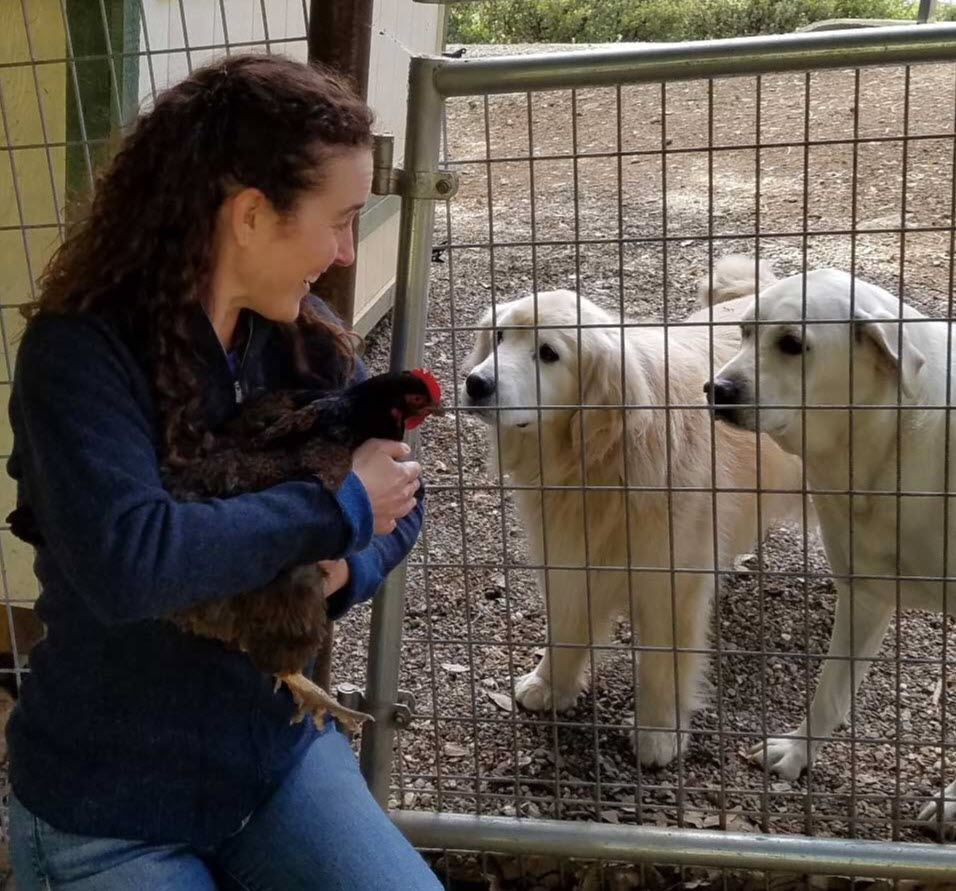 Cody is a pro around all of our barn animals, though he certainly didn't start that way and it took consistent training to get him to the well-behaved barn dog he is today. Guest dogs often read his calm body language which helps them have positive intros with the barn animals. Translated, we think Cody is saying "I know they smell funny but they are part of my ranch pack so you should be nice to them!". Cody is trustworthy around even baby chicks and would never go through an open barn gate uninvited. He's so gentle that when we first gave him a just-laid chicken egg that he carried it around, then set it down gently, licked-it, picked it up again and repeated several times!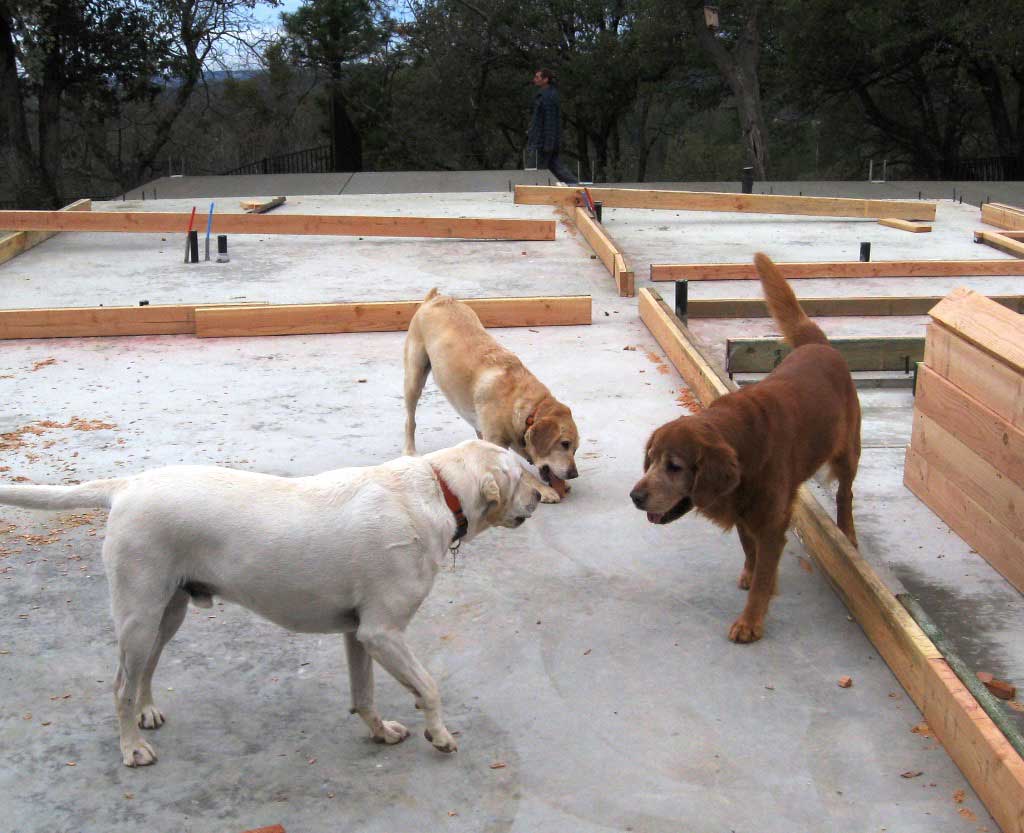 Another of Cody's duties is monitoring new projects on the Ranch to ensure they are "lab tested and approved" for our guest dogs. He and Hannah supervised construction of the guest house (phase3) such as making sure the dog door worked, while getting expert tips on quality control from our contractors' dogs. Hannah (who was our dock-diving dynamo you see in many photos) had previous construction experience with Torri (our black Lab) during the phase2 building of the owners half of the house. You may also see photos of Cayli (chocolate Lab) and Linsey (yellow Lab) who were our Labs during the infrastructure development of the Ranch -- they were the reason we included the big swimming pond!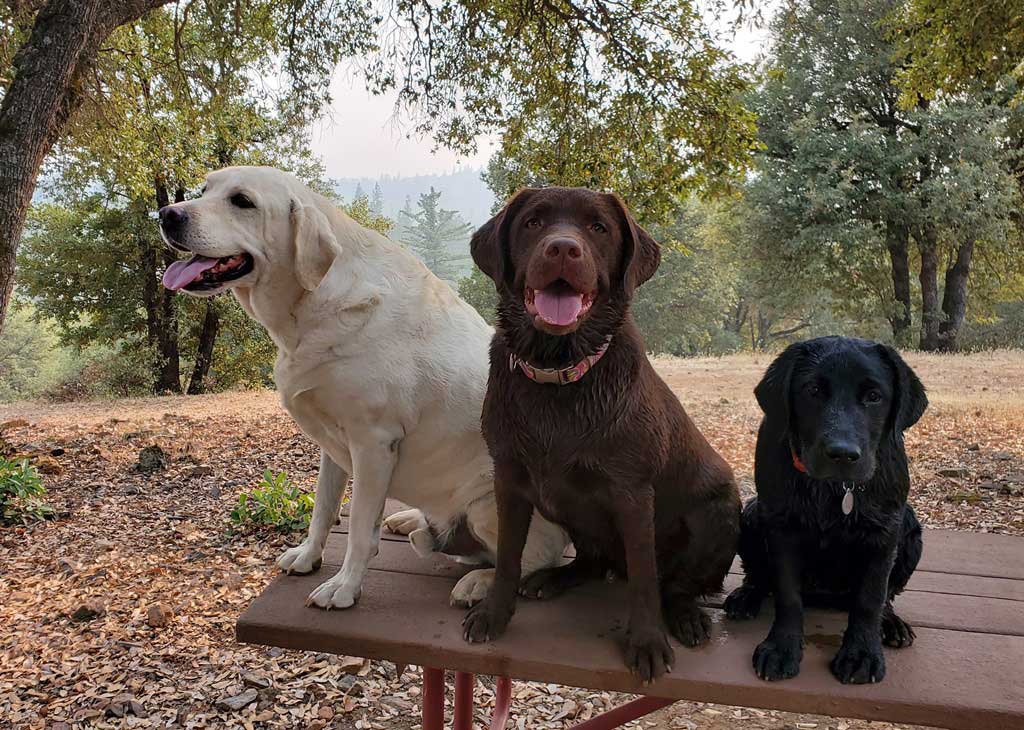 Though we're obviously partial to Labs, we love all dogs and have fostered many of various breeds who have benefited from the chance to just be dogs running off-leash on the fenced 60-acres. Cody is one of the most easy-to-get-along-with dogs we've known and he has a special gift in his ability to deal with reactive dogs. We chose Cody because Hannah was reactive and we learned a lot working with her and many trainers. Cody is very sensitive to dog body language and doesn't run up "in their face" but rather just plays chase with other dogs who want to play. We've encouraged his natural behaviors and feel it's his special calling to help reactive dogs have a successful meeting with a dog companion who respects their space. We've seen more than a few tears from guests whose reactive dogs have fun running with Cody after deciding to take us up on our Cody introduction routine. (note: we keep Cody separated when there are dogs who clearly prefer only their pack).

When Cody isn't hosting canine guests at the Ranch, he travels with us and has (so far) visited the 8 western states (his 8th state was his 8th birthday trip!). He is a superb traveler and quickly adjusts to wherever we are staying. The one trip he didn't enjoy was camping (which we used to do a lot). Cody didn't want to get out of the car and risk being left behind -- we still have to be careful not to trigger his separation anxiety. Cody has an enviable life in his forever home with people who love him and ensure he has the best of everything. Yes, we'll rescue aother dog in a few years to have a full-time companion for Cody when he is older, but for now he is enjoying all the dogs that come visit him at the Ranch. Cody definitely has a very happy ending story for a rescued dog!