Snow Play in the Sierras off Hwy 88
By Cyndi | Updated Feb 2021 | Gold Country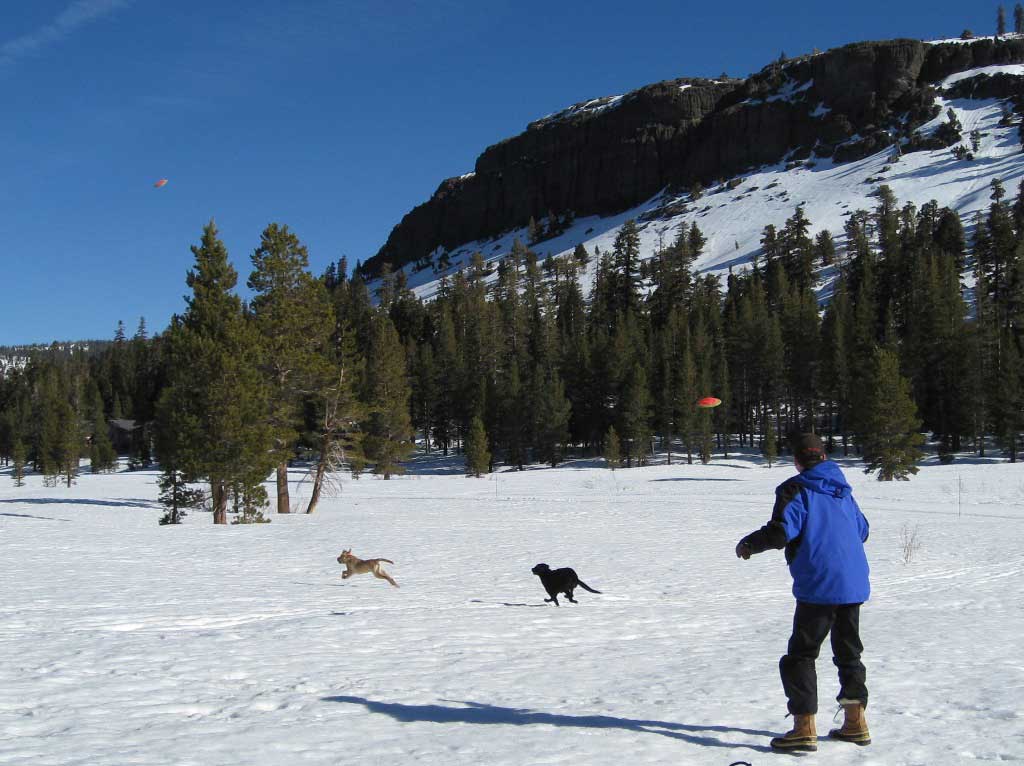 Most dogs love to play in the snow since they don't get too hot, even during long fetch sessions. Some breeds like Huskies were made for winter conditions though other short-coated breeds may need some protection on colder days. Our Labs say snow is just frozen water, so just a new type of water to enjoy!
Since we're avid skiers, we looked for properties that allowed us to be CLOSE to the snow without LIVING in the snow, and our Jackson ranch has been perfect for that. At 2200' elevation, the Dog & Pony Ranch gets a few dustings of snow every year but the snow is usually melted by afternoon. A short drive up Hwy 88 (30-60 minutes) will give you various opportunities to pull off and enjoy some snow time. It is so much fun to watch pups "porpoise" through the snow!
Bear River Reservoir (33 miles)
Bear River is one of our favorite locations to find some fresh snow to romp through or to take a scenic hike on the OHV trails like in these photos. On the weekends when the weather/snow is nice, Bear River gets crowded so it's best to plan a weekday to play in the snow if possible. Bear River Rd off Hwy 88 is usually plowed and there are several end-of-the-road spots where you'll see cars parked like our usual at 38.548460, -120.273640.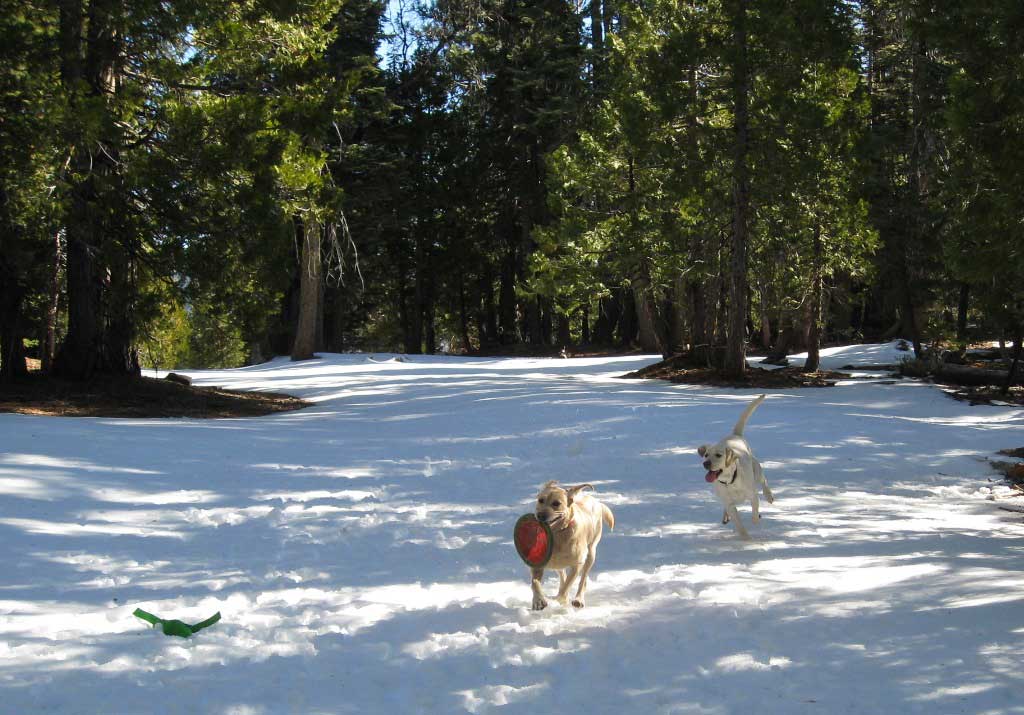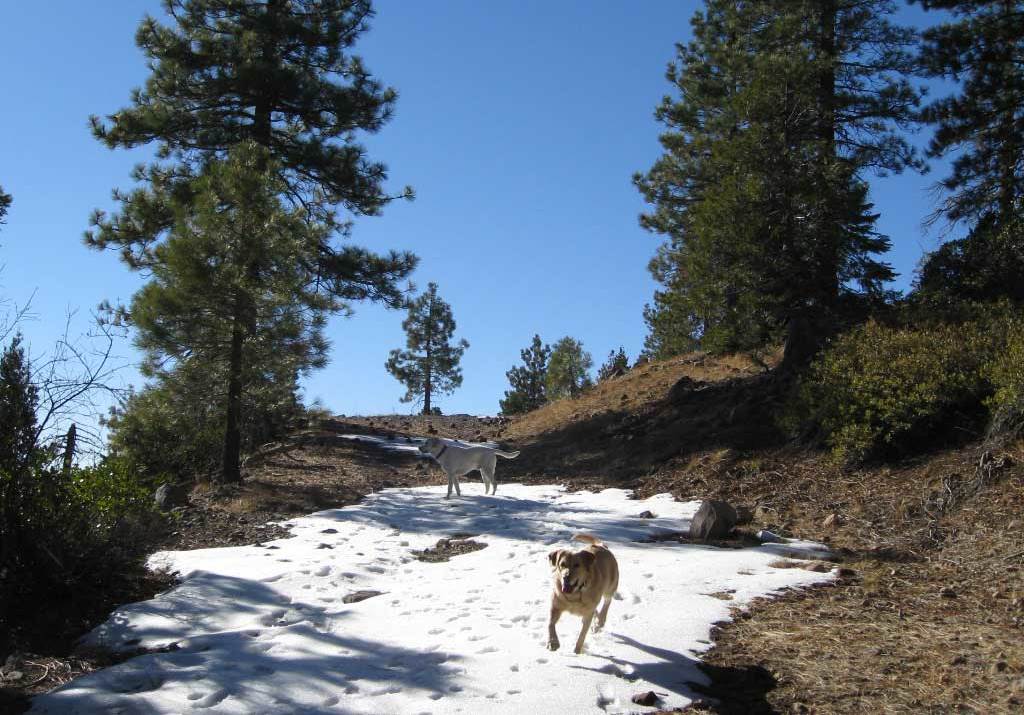 SNO-PARKS (40 miles)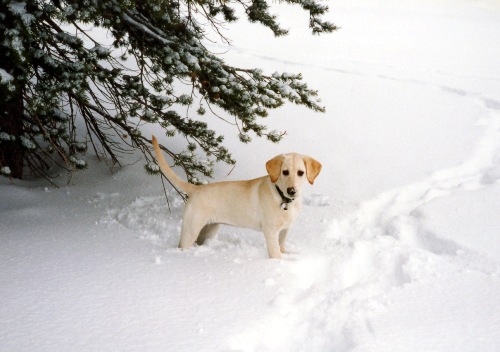 Several SNO-PARK sites are up Hwy 88 from the Dog & Pony Ranch including the closest at Iron Mountain with a few more just past Kirkwood (Meiss Meadow, Carson Pass, and Hope Valley). The SNO-PARKS are well marked with distinctive brown signage, have cleared parking areas, restrooms, and access to multiple activities you can do with your kids and dogs such as cross-county skiing, snowshoeing, sledding or just playing in the snow.
Visit the SNO-PARKS website for latest information and links to purchase permits for single day usage ($5) or season pass ($25 valid at SNO-PARKS in CA, OR, and ID). There are fines ($94.50) for not displaying permit so we recommend buying a permit for the conveniences offered at the parks.
Kirkwood Meadows (52 miles)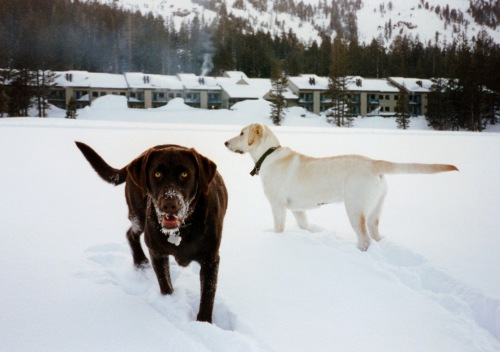 Another favorite place to play in the snow is the large meadow behind the houses and condos like in these Kirkwood photos. We usually park in the lot across from Timber Creek lodge for easy access to the meadows in the middle of Kirkwood (see Kirkwood map) though be aware that this lot will be very full with skiers and snowboarders on good snow weekends. The meadows are also used by cross-country skiers so please keep your dogs out of their way.
Kirkwood is a great option if you also want to enjoy some snowboarding, downhill or cross country skiing. We often play with the dogs when arriving at Kirkwood for the day, then let them nap in blankets in the car while we hit the slopes, and then let our dogs out to enjoy the snow at lunch and at the end of the day. Or if you cross country ski, you and your well-behaved dogs can hit the trails at the same time!
Stops along Roadside
Driving up to the mountains you'll see lots of people pulled off to the side of the road to play in the snow. I personally feel that is more dangerous with dogs and/or young kids who might run out on the road but some places where you can get far enough away from the road to enjoy the snow(we leash our dog until further away from the road to be safe). Here's a favorite stop that's 5.3 miles south-west of Pickets Junction (intersection or Hwys 88/89) on Hwy 88 at 38.713632, -119.955189. You can hike/snowshoe/ski along Red Lake Creek (featured in the header photo) into National Forest -- it's a good/free location for cross country skiing.