Dexter Heifers for Sale - SOLD July 2019 to a great home!
Two registered 2-year-old heifers by Brightlea Calum out of two Hifalutin Dexter Cattle dams. Born in May 2017, both mature maidens are open and ready for fall breeding! Hifalutin breeder taught them to lead. They have grown from weanlings to mature heifers on our Dog & Pony Ranch farm-stay so have been well-socialized and handled by many people -- these heifers are very friendly not only with people but also their horse/donkey/llama pasture-mates.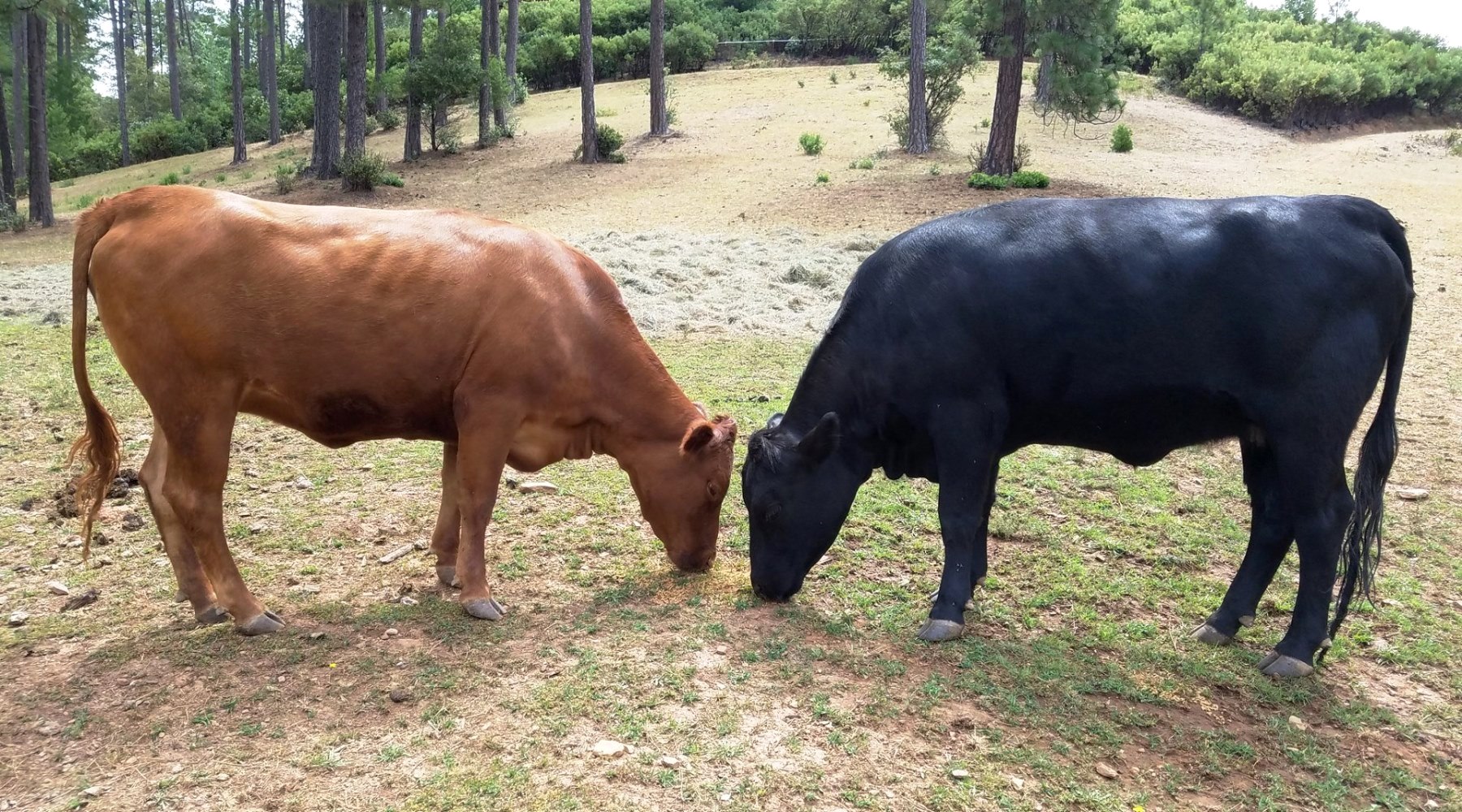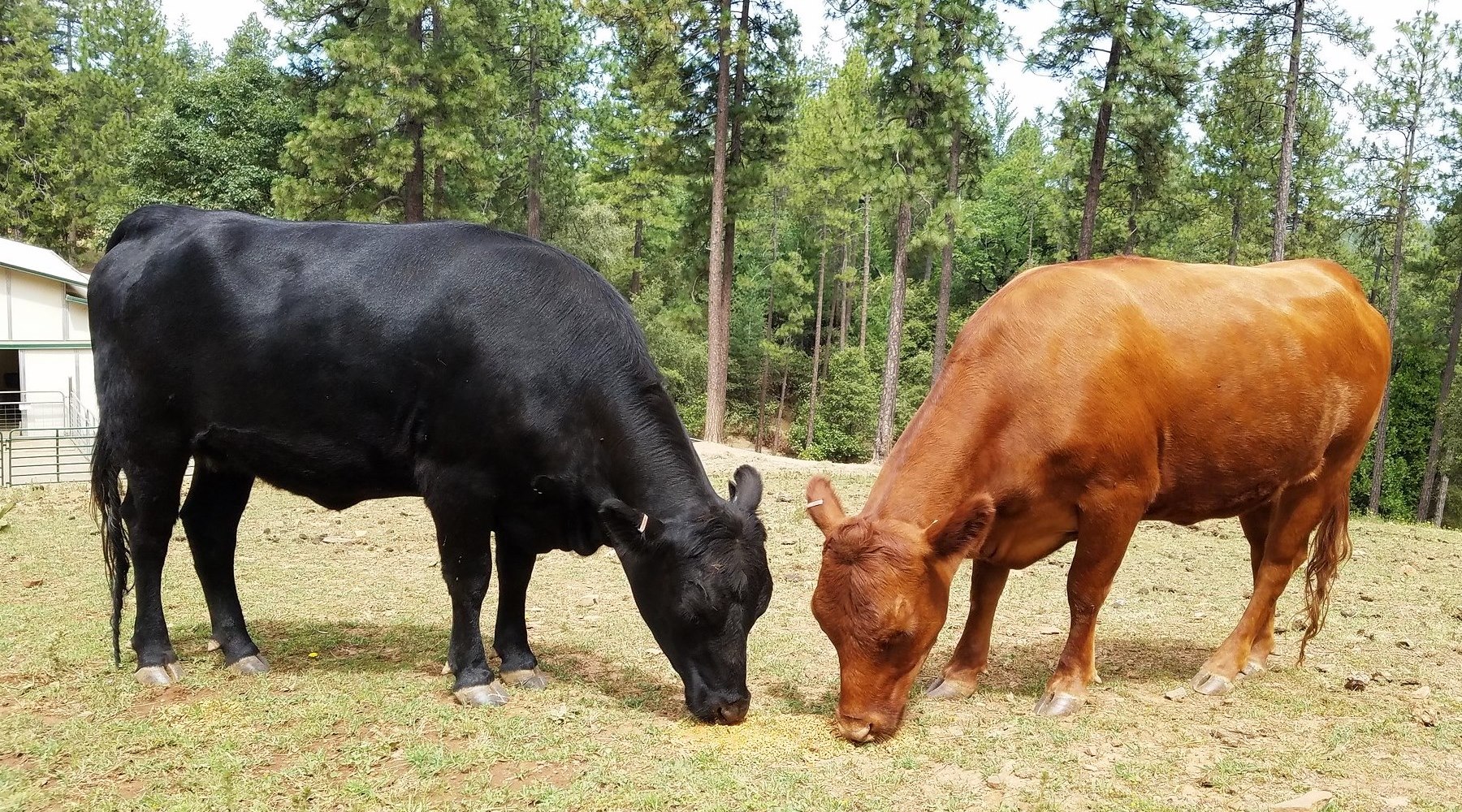 Black: "Betty" Hifalutin Myrtle Bell (ADCA 41877). Out of Hifalutin Ila (38407) by Brightlea Calum (31957), she is black, and carries both wild RED and DUN. In other words, if you like color in your herd, this is your girl. Born 5/1/2017, Betty is homozygous polled and A2/A2. Her parentage is verified (G5) and she does not carry Chondrodysplasia or PHA.
Red: "Wilma" Hifalutin Anna Victoria (ADCA 41876) is out of Hifalutin Adagio (35640) by Brightlea Calum (31957). Wilma is red (e/E+) and carries dun (B/b). Born 5/15/2017, she is heterozygous polled and A2/A2. Wilma does not carry Chondrodysplasia or PHA.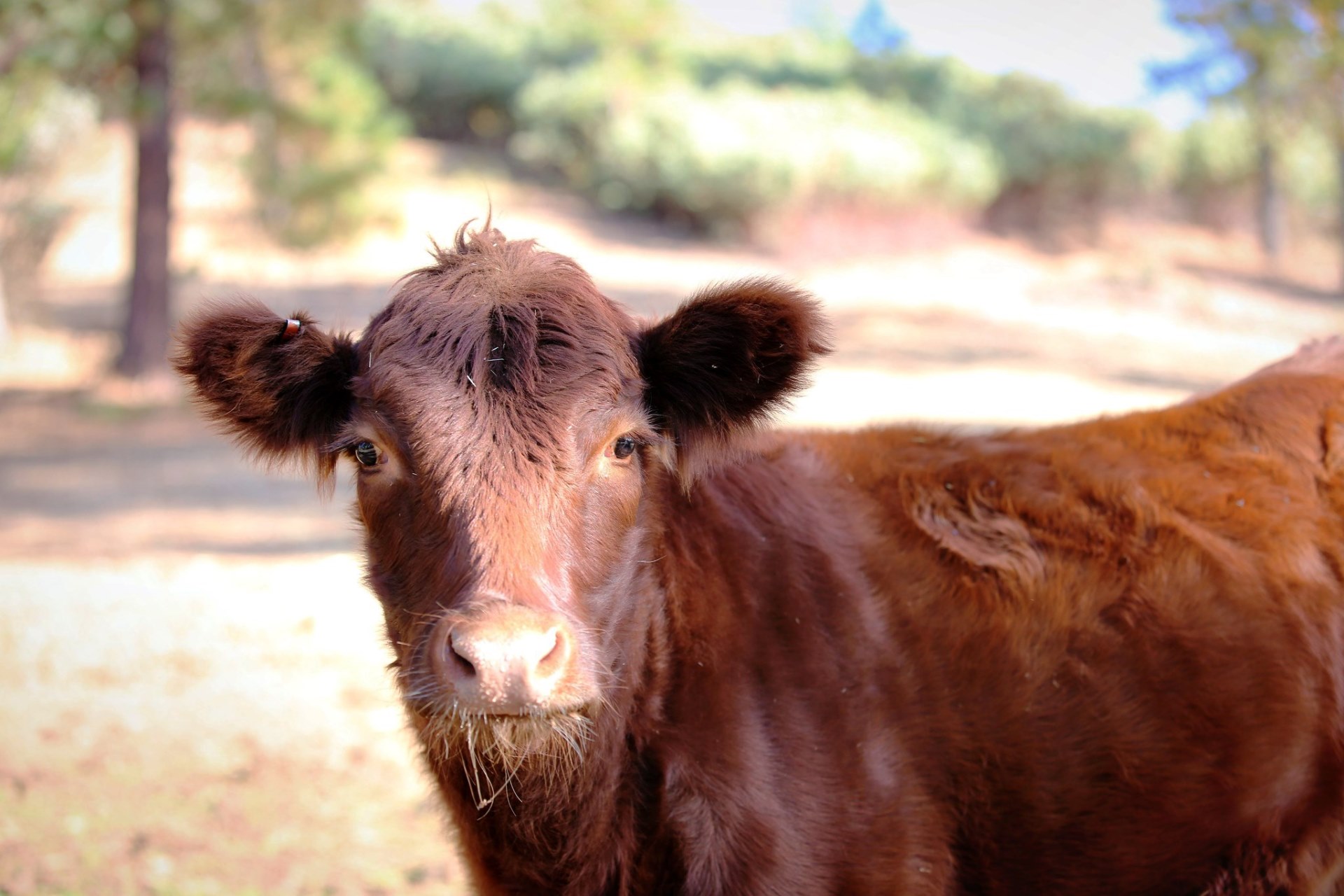 We aren't setup for breeding and their excellent lineage shouldn't go to waste, so we are selling them as a pair for $3,000 (transfer of registration included). Betty and Wilma will only be sold as a pair. They are best friends and have enjoyed butting heads together all their lives. Betty is dominant and Wilma is a bit shy (though the sweeter / gentler of the two) so takes her cues from her half-sister.
Transport and certificate of veterinary inspection (for out of state buyers) at buyer's expense, though we may be able to provide transport if within day's drive of Sacramento, CA area.
Many more photos below showing sire, dam, and both heifers at various ages and times of the year. Their sire descends from some of the best dual-purpose Dexters ever bred (Hiyu, Bedford, RDoubleD) – see more photos of Calum and his progeny.