Merchandise Store
For several years we have offered logo merchandise for guests visiting the Dog & Pony Ranch who want to take home souvenirs to remember their visit. Recently, we have started expanding the products we offer and have launched our DogPonyRanch Etsy Store for easy and secure purchase.

Animal-Themed Shirts
When our llama Mozart showed how much he enjoyed his new "kissing" trick shown in video clips below (basically touching noses which is a natural llama behavior to sniff someone new, that I cue with an anthropomorphic "kiss" sound), I had to design this shirt for guests who "kissed a llama and lliked it"!
I've added several more designs with beautiful llamas and silly puns to make you smile. Unisex adult sizes XS-3XL, kids/youth sizes XS-XL, and toddler sizes 2T-6T in a variety of colors to complement each design.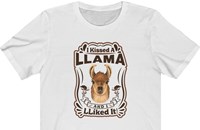 "I kissed a llama"
adult light shirts
,
adult dark shirts
,
youth shirts
,
toddler shirts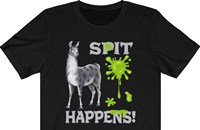 "Spit happens"
adult shirts
,
youth shirts
,
toddler shirts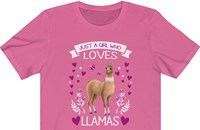 "Loves llamas"
adult shirts
,
youth shirts
,
toddler shirts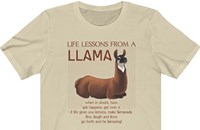 "Llama lessons"
adult shirts
,
youth shirts
,
toddler shirts
"Mama llama"
adult shirts
Personalized Postcards
Guests continue to tell us how much they appreciate the photos we take of them enjoying our Ranch and the animals here -- with the entire family at more than selfie-arms-length. We are now offering personalized postcards if you want us to print a special image for mailing to loved ones (parents and grandparents will be especially delighted to receive).
Llama Fiber Products
Our llamas are sheared every spring before the hot summer so our llama fiber has been accumulating. We've started processing the fiber into various products with more still to come!
Logo Items
Our guests have given us great ideas to expand with the products they most like to buy as souvenirs when traveling, so we've added hats and coffee mugs in addition to other cups and t-shirts. Online fulfillment will allow us to offer many more colors and sizes. Please continue to let us know what you'd like to see in our store!