Frequently Asked Questions
| | |
| --- | --- |
| | Dog/Animal Questions |
Reservation Questions
Other Questions
And there is a web page dedicated to What to Bring recommendations for guests. If you have other questions, please contact Cyndi at owner@DogPony.com or 408-471-8757 (phone/text).
Dog Questions
Q: Is your property fully fenced?  
A: YES!  The hilltop house's shared back yard and guest private side yard have 6' high wrought iron fencing that is secure for dogs. In 2020, we added narrow mesh fence at the bottom of the wrought iron so tiny dogs can't squeeze between the pickets in the guest yard. A 10'x10' chain-linked dog run is available at the pond if you want to keep pets confined while you enjoy lunch under the gazebo.
In addition, the full 60-acre perimeter has 4' high standard livestock wire "field fence" that keeps most dogs inside the property line with you though it's not intended to be foolproof since wildlife comes and goes. Several guests with "escape artist" dogs have reported that their dogs had no reason to challenge the field fence with 60 acres of clear trails already on the side with their people but it's up to you whether you want to just let your dog off leash on the full property. Both fence types shown in photos below.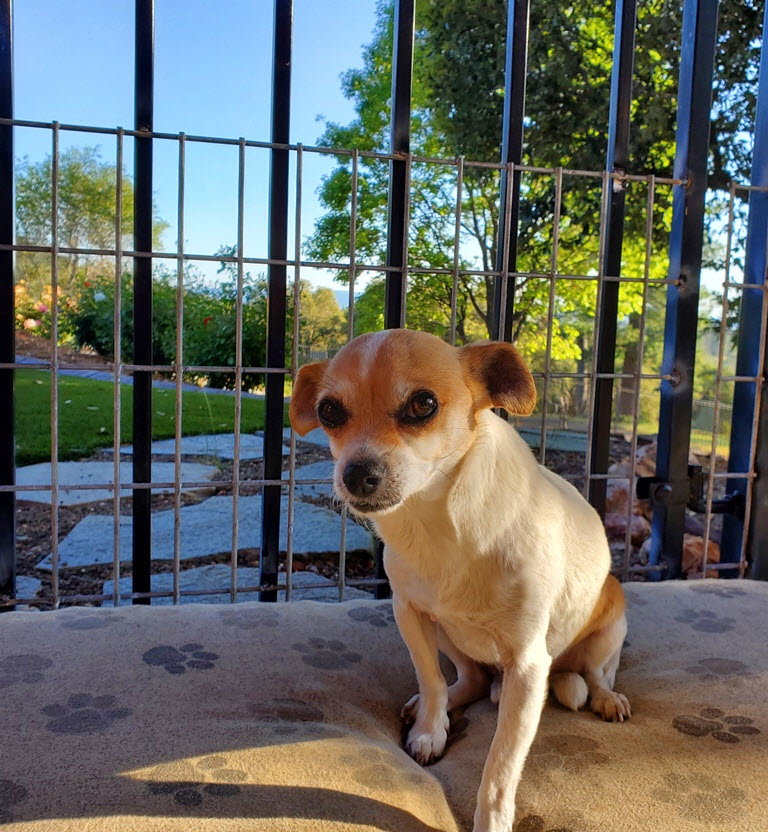 Top of FAQ
Q: Will my dogs be safely separated from the ranch's livestock?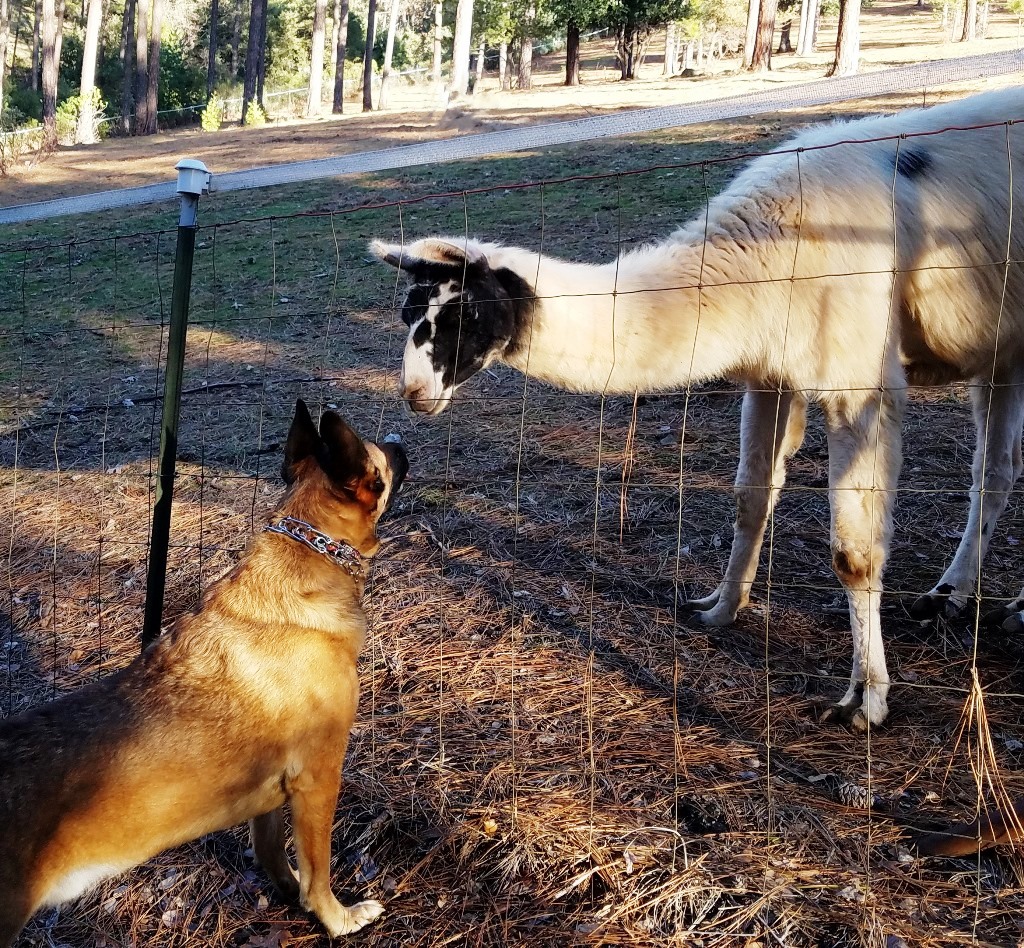 A: WE LOVE ANIMALS SO THEIR SAFETY IS A TOP PRIORITY TO US!!! Our horses, donkeys, llamas, and chickens are safely separated in ~10-acres of pasture on the east side of the 60-acre property with ~4' high cross-hatched "field fencing" that should keep most dogs out of the livestock area. Our fencing is more secure than most livestock ranches who typically fence with 3-strands of wire. Our chickens have a predator-proof coop and run, and our cautious animal introduction routine should show if there should be concerns with a specific dog going near the livestock.
If you have very small or very determined high-prey drive dogs, we may recommend that you leash them when walking near livestock pastures since they might find a way to go over or under the fence. Children should be supervised at all times as well to ensure they don't open gates and go into the animal areas. Guests allowing their dogs to harrass our animals, or people going into the horse/donkey/llama/chicken pens putting both themselves and our animals at risk will be asked to leave immediately per our rental agreement (our livestock areas are under constant video surveillance). So far, there have been no issues which means we're happy to continue sharing our unique dog-friendly farm-stay with rental guests!
Read more info about the Dog & Pony Ranch Barn Animals.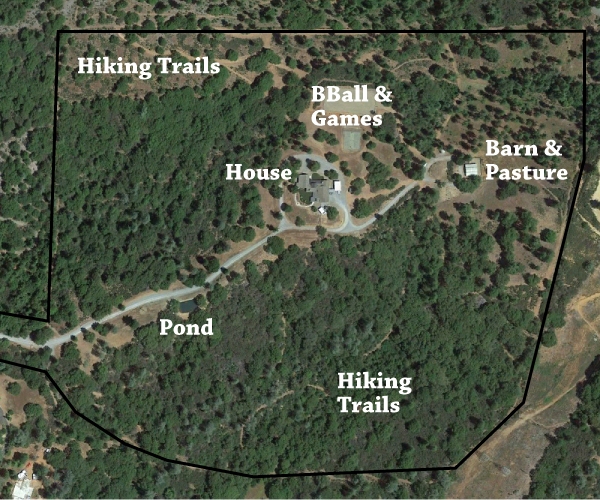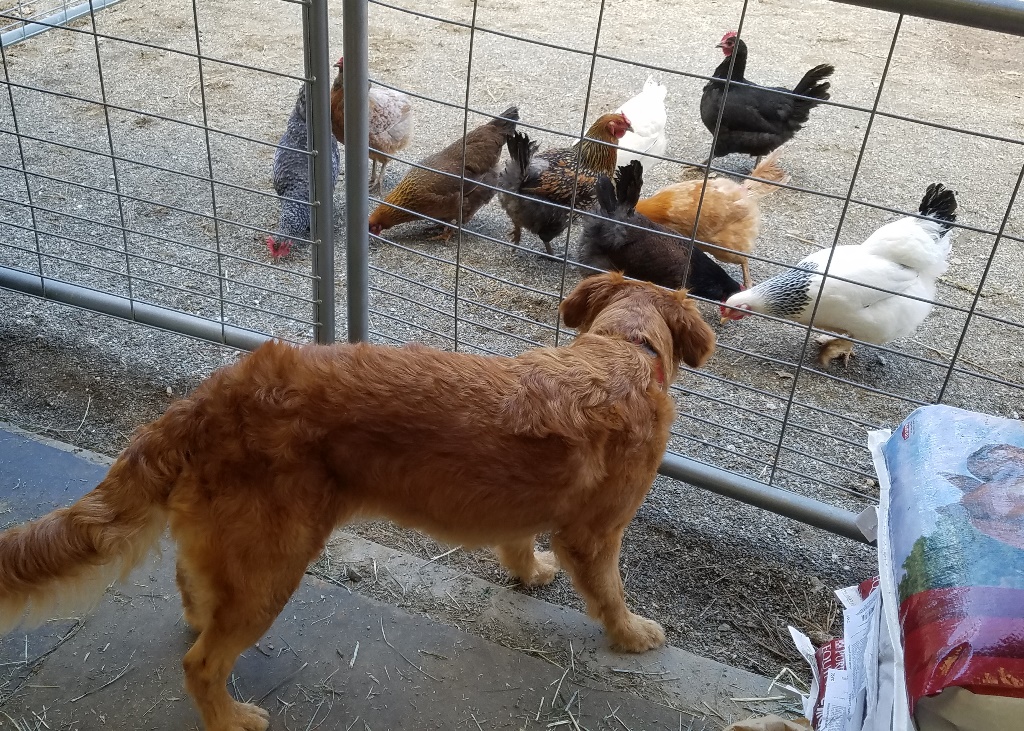 Top of FAQ




Q: How many dogs can we bring? Are any breeds excluded?  
A: We welcome ALL WELL-MANNERED dogs of any breed, even those un-neutered. Of course if they are likely to damage our house, then you probably wouldn't even be considering traveling with them and we find that people interested in our vacation home are responsible pet owners. We've hosted groups up to 5 large dogs and 7 smaller dogs during a single rental so far, and as long as the dogs get along well together, we don't have a maximum for number of dogs. We aren't fond of "pet fees" when we travel, so no additional charges for dogs (unless damages).
Pets should be up-to-date on Rabies vaccinations and NOT have any contagious diseases (Kennel Cough, Giardia, Parvo, Flu, etc. with vaccines recommended though not required). Dogs should also be relatively flea free with recent flea and tick treatment recommended especially during cold-weather tick season.
Top of FAQ
Q: Can we swim in the pond with our dogs? Can our dogs swim year round?
A: Yes and yes! Our lined pond (50' x 70' x 6' deepest point) is like a very large pool complete with aeration, circulation, AND filtration that runs daily. We have NEVER had fish/fishing (so no risk of fish hooks) and we DO use pool/pond chemicals (chlorine and algaecides) to keep water safe for people and their pets. It's not quite as clear as a typical pool but much cleaner than a natural pond. Of course, swim at your own risk and no diving.
Our well water keeps the pond full year round, and during the winter, our elevation doesn't get cold enough to freeze the water (occasionally a brief layer of ice at the shallow end). We are passionate about our water dogs who we designed our swimming pond for, so we always ensure the pond is ready for people and pets to enjoy!
Here is a photo of our pond while empty to better illustrate the equipment. Please avoid the aerator closest to beach. Floatable retrieval toys are fine but please do NOT throw rocks, etc. into the pond since they may damage the liner.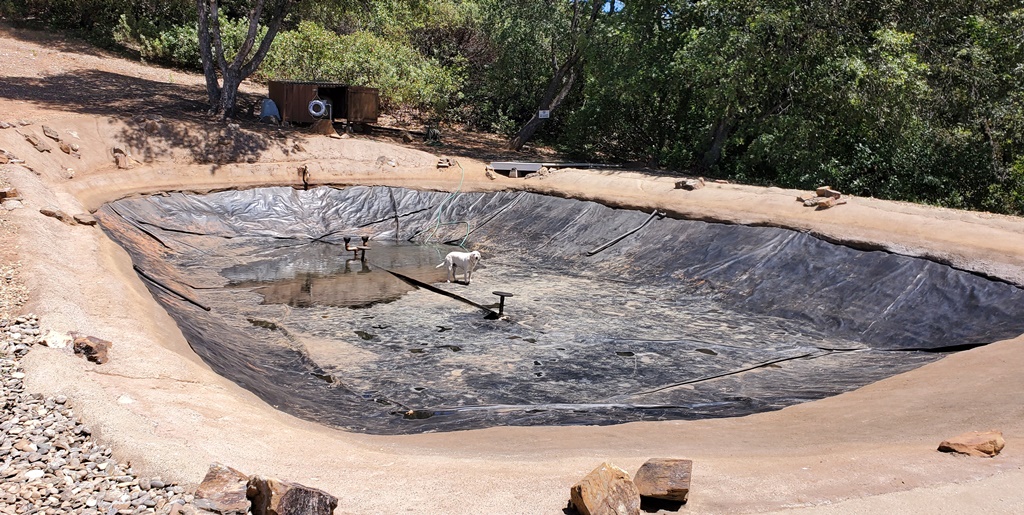 Top of FAQ
Q: I've heard of cold/dead/limp tail -- should I worry about it with my dog swimming in the winter?
A: It shouldn't be a problem if you take precautions. Cold/dead/limp tail is basically a sprained tail that recovers after a few days (pain meds help) and not only based on water temperature (we had a Lab who loved to swim with the icebergs in the melting snow near Tahoe without any problems). When we competed with our Labs in dock diving, we learned a lot about limp tail after our first competition when it happened to one of our Labs.
Just like any athletic endeavor and especially in cold conditions, you shouldn't overuse a muscle or you risk injury. A couple of guests with dogs who want to do many big jumps into the pond have gotten cold/dead/limp tails so we're now calling more attention to this FAQ. As long as we did a thorough warm up with rub down of our dogs' bodies and tails before/after jumping into the water (and didn't allow too many big jumps that can tweak the tail on water landings), we haven't experienced limp tail again with our Labs, even dock-diving during cold weather.
Top of FAQ
Q: Can we come for a day visit -- we'd like to spend some time with the llamas/horses/donkeys?
A: Yes! We re-started Day Visits in September 2021. Please note that we do NOT allow drop-ins at our private ranch for the safety of our animals and guests -- privacy is one of the aspects our guests value the most so we ONLY ALLOW ONE family/group reservation at a time so there will not be overlapping overnight/day visits.
Top of FAQ
Q: Is horseback riding available?
A: Yes, we mostly do lead-line "pony rides" on our own 2 horses, but many guests have enjoyed learning how to groom and saddle a horse, practice riding in the arena and then taking the horses out for a short trail ride. Horseback riding is one of our Animal Extras so refer to that page for more info and pricing. We don't have a large string of rental horses so it's best to contact Cyndi with your interests to see if we can accommodate. We also recommend several nearby horseback riding stables for longer trail rides with a larger group, including riding through the vineyards!
Top of FAQ
Q: Do you have rattlesnakes or other natural hazards?  
A: No, there do not seem to be any rattlesnakes issues since none seen/heard in over 20 years on the property. There are many lizards and have occasionally seen a harmless type of snake. As in most of California, the biggest hassles you may find are foxtails/stickers (mostly late summer) and ticks (mostly Nov-Apr) so be prepared and they shouldn't cause problems. Under the kitchen sink, there is a dog comb that helps with sticker removal and tweezers if needed. Here's a favorite tip from a guest for how to remove ticks without tweezers by just circling the tick with your finger -- we use it now and it really works!
Top of FAQ
Q: What other type of wildlife might we see?  
A: Many wild animals come and go on our 60 acres including numerous deer, turkeys, rabbits, squirrels and the like. There are lots of birds including predatory birds so you may want to keep your small dogs close. Our wildlife gallery includes photos from our motion activated trail camera.
We've seen the same types of nocturnal animals that live throughout Northern California / Bay Area (skunks, raccoons, opossums, foxes, coyotes, bobcats, and an occasional lion) so just stay closer to the house at night to avoid them. You may not see all these types of wildlife during your visit but your dogs will certainly enjoy their smells. We've never had any people/dog with predators problems and neither have our guests, so just be aware and enjoy the natural setting of living on 60 acres!
Top of FAQ
Reservation Questions
Q: Is the Dog & Pony Ranch available on these specific dates?
A: Our calendar is always up to date and we book on a first come first serve basis (based on deposit received) with responses typically within a few hours. So the only scenario when dates shown as open might not be available is if someone else has a booking request sitting in my inbox that I haven't yet processed. We accept bookings up to a year in advance, though feel free to contact us for special cases further in the future.
Top of FAQ
Q: There's only a single night available so will you make an exception to the 2-night minimum?
A: That's a firm NO. 1-night is not worth it for either our guests or us. Most of our guests say that 2-nights is barely enough time to enjoy the Ranch and book longer stays for their next visit. Just as most people need their weekend breaks from work, we greatly value our time between guests to enjoy our ranch and animals ourselves -- the ranch is our home. If you're passing through and only have 1 night, a motel is a better choice. If you can only getaway for Sat/Sun due to work schedules, then find an available 2-day weekend to book and we'll work with you to arrange early arrival and/or late departure. For example, if can only stay Saturday night but willing to book 2 "nights", we would give you more daytime hours on the Ranch like Sat 8am - Sun 8pm for almost 2 full days (assuming surrounding reservations permit at time of reservation).
Top of FAQ
Q: Do you charge for children?  
A: Yes, we charge based on total number of people regardless of age, though no extra charge for dogs who don't use the utilities and linens like people do. Please note that the house is NOT childproofed, and the circular staircase, hard floors and large natural property with horses & livestock and unfenced pond & waterfall may not be ideal for toddlers. We leave it up to parents to decide whether the Ranch setting and the amount of supervision they want to provide is appropriate for their young childrens' age level. If you do decide to bring babies, please bring all needed items for their age since we don't have any highchairs, playpens, etc (we have 4-footed children and are very well setup for them :). We've hosted children of all ages though typically find older children enjoy the Ranch and its animals most. Teenagers especially love the loft with it's private space.
Top of FAQ
Q: Is your home well-suited for my group?  
A: The very romantic master suite makes the guest house best suited for couples with dogs who book the Dog & Pony Ranch the most! Families have also highly rated our house and kids especially love the loft for their own private retreat. Almost all of our reservations are for 2-4 people with their dogs. The 3 beds will sleep 6, though please consider how your larger group would share the space (see layout on Guest House page). We do have also have an air mattress for guests so let us know how we can make your group comfortable!
Top of FAQ
Q: How do I make a reservation?
A: Almost all of our guests book directly with us using the Quote Calculator link and brief reservation form on our Calendar/Rates page. Booking directly is always the least expensive option (no service fees plus more discounts available) and provides most recheduling flexibility; we use PayPal for secure payments (no account needed - can just input your credit card).
We also accept reservations via various booking sites (Vrbo/Homeaway, Airbnb, etc) if you prefer those services despite booking site fees. Our calendar is always kept up-to-date with weekends usually booked sevaral months in advance.
Top of FAQ
Q: What are your payment terms?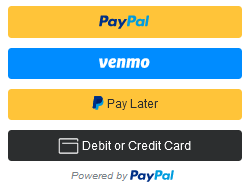 A: Direct bookings are safely paid via a PayPal invoice with all the various payment options supported by PayPal (most credit cards including AmEx, debit cards, Venmo, etc). NO PAYPAL ACCOUNT REQUIRED.
Top of FAQ
Q: What are your check-in/out times?
A: The standard times are 3pm check-in and 11am check-out to give our housekeeper time to get the house ready for next guests when there are back-to-back reservations. However, if we don't have anyone immediately before/after you, then we try to be generous with early/late times, especially for returning guests.
Top of FAQ
Q: What is your change/cancellation policy?
A: We offer typical vacation home rental change/cancellation terms (see Rental Agreement for specific details). Basically, date changes/cancellations are refundable (less $100 cancellation fee) if requested more than 4 weeks before check-in. If less than 4 weeks prior to check-in, 50% of the rental cost is forfeited since we will not likely be able to re-book with short notice. Note that we do NOT provide refunds for last minute changes outside of Dog & Pony Ranch's control, though we did provide refunds to the guests affected by our 2015 mandatory fire evacuation.
To protect yourself from lost rental costs due to last-minute cancellations (illness, weather, wildfire smoke, etc), we encourage you to purchase travel insurance. Now that the pandemic crisis has settled, we are no longer offering "Future Stay Credit Insurance" but there are many options for third-party travel insurance. Please be aware that pet health isn't usually covered by travel insurance unless you get the "cancel for any reason" coverage. We've personally used squaremouth.com for travels with our dogs and they offer options for covid and cancel-for-any-reason insurance.
Top of FAQ
Q: How are you addressing concerns with COVID-19?
A: We worked on a case-by-case basis with guests who had EXISTING reservations prior to the Mar 19, 2020 California mandate and were generous with rescheduling for those needing to stay-at-home. For people making NEW reservations, we encourage you to consider buying travel insurance that covers covid and other illnesses.
We closely follow recommended practices for lodging and put in place additional sanitation measures including blocking at least 24-hrs between guests (which unfortunately reduces our available dates). Of course, please follow good health practices of frequent hand washing and not exposing others if you are sick.
Top of FAQ
Other Questions
Q: Do you have cell phone reception at the Ranch?  
A: AT&T and Verizon have good coverage, while T-Mobile is getting better at the house , but other carriers may not have good reception in our rural area. We have WiFi to supplement those not able to get cell coverage. There is good cell coverage in the towns of Jackson, Sutter Creek, and Pine Grove (only 4 miles away).
Top of FAQ
Q: Is your WiFi/internet fast and reliable?
A: It's "reasonably fast". Rural internet speeds are much slower and less reliable than city internet using cable/fiber. After years of searching for a decent rural ISP, Starlink finally became available in our area! We are typically getting 20-60Mbs download, 5-15Mbs upload and fast enough latency for video conference calls. It is not fast enough for gaming which would also disrupt others who are relying on this rural shared service for business needs.
It seemed the best way to demo our new ISP performance was through a video conference call with BOTH of us using Starlink at the Dog & Pony Ranch. Please excuse my corny script to highlight key points -- it's a good thing we were both animal-loving high-tech geeks with zero interest in acting 🤣.
Top of FAQ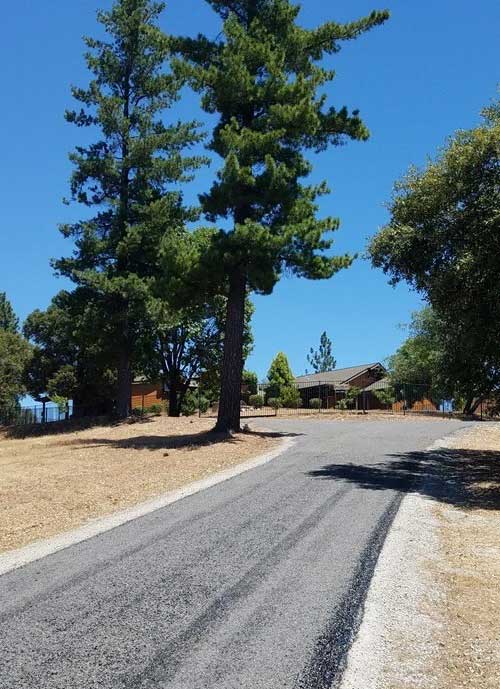 Q: Do I need a 4WD? What type of road do you have?
A: No 4WD required -- regular cars shouldn't have problems with our driveway in any season. We've only experienced one historic storm that required snow chains (read more about our location and weather). Our 0.4 mile driveway is fairly steep in places but mostly straight. It is "chip sealed" which is better and less dusty than gravel, and doesn't get as hot as paved asphalt (so easier on paws). See photo of the last section of driveway before the circular loop around hilltop house.
Top of FAQ
Q: Can I bring my mountain bike to cycle on your trails?
A: Yes, you can ride your mountain bike on our Ranch trails, however they were developed for walking routes (our main loop is a mile) so pretty short for cycling. If your goal is to have your dogs run with you while you bike without worrying about leashes, then the main Ranch loop can be fun. Troy is an avid mountain biker and his usual route is riding to the nearby Tabeaud rec area, taking the 2.5 mile loop around Lake Tabeaud, and then back home for total of ~7.5 miles.
Top of FAQ
Q: Are California fires/smoke affecting your area? 
A: Wildfires and smoke are a frequent problem in California and status during the dry season can change day-to-day. In 2020, we weren't as impacted as the many areas of the state, and some Bay Area guests were even relieved to escape to our relatively less-smoky air during bad Bay Area fires. 2021 has had many fires in Northern California with vacation spots like Tahoe horribly affected. We hope you get to enjoy our typical blue skies with starry nights and beautiful sunsets, but you're sure to have fun at the Ranch even if it's a bit hazy.
California is a big state so our air quality is often different than other Northern CA locations. There are many helpful websites to help you track Jackson area conditions including PurpleAir.com (we're closest to Clinton, Pine Acres, Pine Grove in this GPS view and often better conditions than Jackson), californiasmokeinfo.blogspot.com, wildlandfiresmoke.net and amadorgov.org/services/amador-air-district. Fortunately, our animals don't seemed bothered when there is smoky haze -- it even can make the temps cooler which they appreciate!
Amador County has an excellent CodeRED alert system and we saw how country neighbors pulled together during the 9/2015 Butte Fire which required evacuation at our Ranch and we had plenty of advanced notice. We have an evacuation plan for our animals but will be sure to keep current guests updated if we are required to evac again.
Top of FAQ
Q: Do you provide firewood?
A: Yes, we provide firewood for the wood-burning fireplace during fire-safe months. The outdoor fire pit is only available during hosted visits when we can light and safely monitor the fire (just let us know if you want a sunset fire). This is not just our policy -- Amador County restricts vacation rental guests from lighting outdoor fires due to all the signficant losses from California wildfires in recent years.
Top of FAQ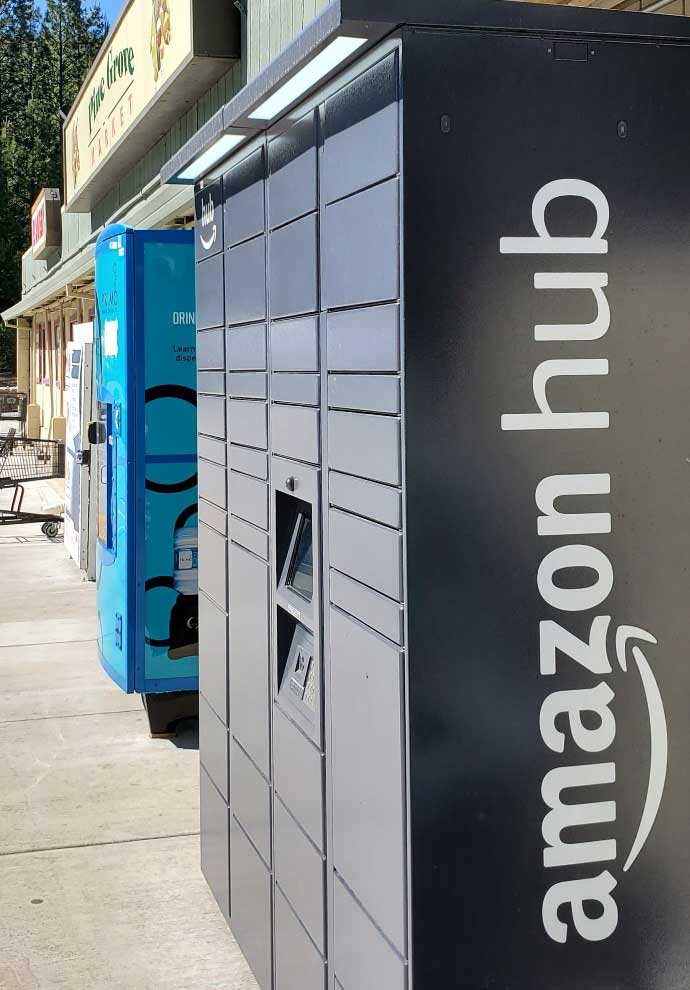 Q: Where can I pick-up Amazon, UPS, FedEx deliveries?
A: Amazon has hub lockers we regularly use just a few miles away at the Pine Grove Market, 19394 State Highway 88, Pine Grove, CA, 95665. FedEx and UPS do deliver to our rural address, but be aware that lower-cost UPS SurePost (used by Amazon) converts to USPS "last mile delivery". Since packages don't usually fit in our USPS cluster mailboxes a mile away, USPS delivery takes longer with a pick-up slip in our mailbox which then you take to the post office in Jackson the next day to get your package.
We do miss the front-door delivery of city living, but between Amazon Prime and a variety of stores in town, we find country living just takes a bit more planning.
Top of FAQ

Q: Is there a place nearby to charge my electric vehicle?  
A: Yes, there are currently 8 Tesla charging stations in downtown Jackson in the large parking lot behind Mel's Diner only 15 minutes from the Ranch. There is also a free Liberty EV charging station in the parking area across from the Jackson fire station. Charge your car while you grab a meal or walk/shop around downtown Jackson (Biggest Little Kitchen Store is highly recommended).
If you have an adapter and want to charge using one of our 110V / 20A outlets, that's OK but it's an extra $20/night for EV charging since our electricity is very expensive for the guest ranch despite our solar panels' contribution. Only a few of our guests have driven an EV to the gold country so we don't bundle the extra EV charging electricity cost into our rates.
Top of FAQ