Barn Animals
Farm Stay Experience with Horses, Llamas, Donkeys & Chickens!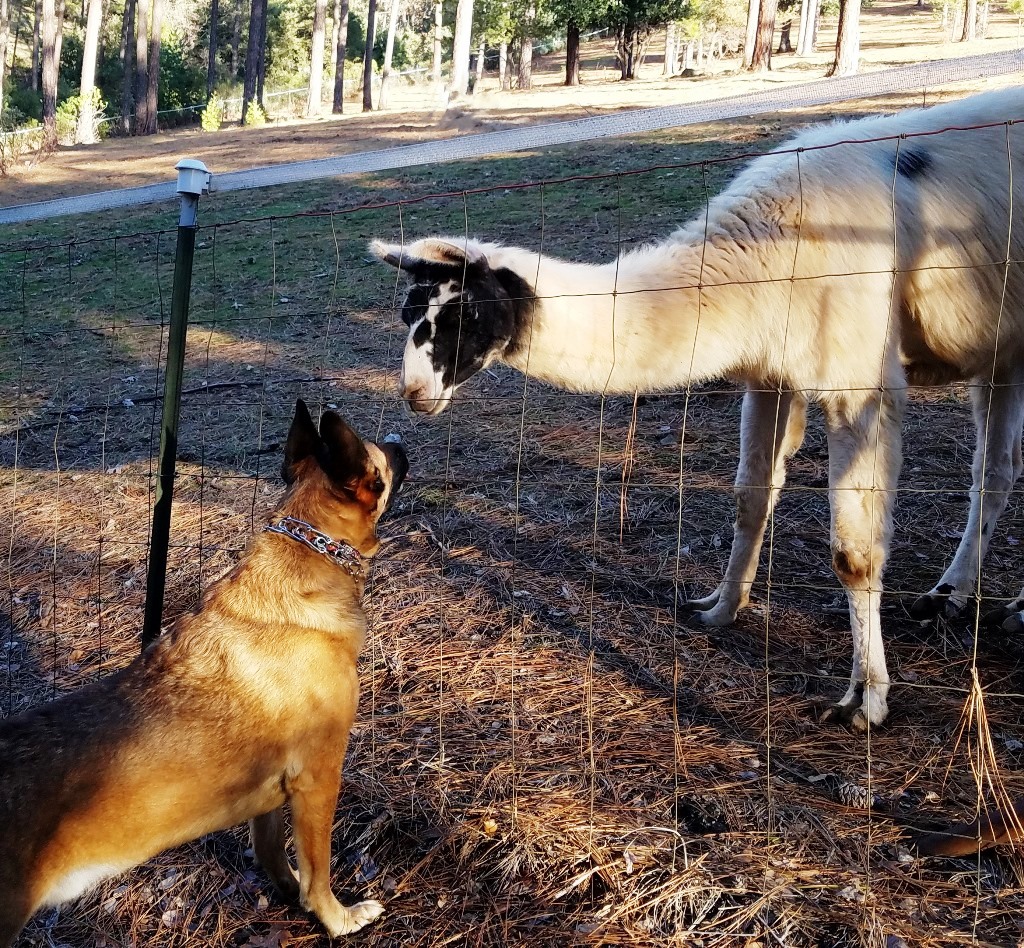 After our guests get settled, most choose to participate in our fun and successful animal introduction routine. We take the long route down to the barn to get people oriented to the trails/property and let guest dogs burn off excited energy. As we near the pasture, leashes go back on to meet the big animals. Our curious (and guards by nature) llamas usually come down to check-out strangers and we get lots of nose-to-nose greetings. Dogs are often surprised that the big prey animals run towards them and it's good to have dogs gain a healthy dose of respect for our pasture pals.
Included in your stay at the Dog & Pony Ranch is the opportunity to interact with the barn animals during their late-afternoon feeding. PLEASE DO NOT FEED OUR ANIMALS UNLESS WE HAVE PROVIDED THE TREATS/AMOUNTS that are safe for each animal. You can meet and pet our livestock, give them their special treats and take some fun photos. Guests are also welcome to enjoy farm-fresh eggs from our pasture-raised chickens which we stock in the guest kitchen refridgerator.
» Optional animal extras: llama walks, horseback riding, and more!
More Info about our Barn Animals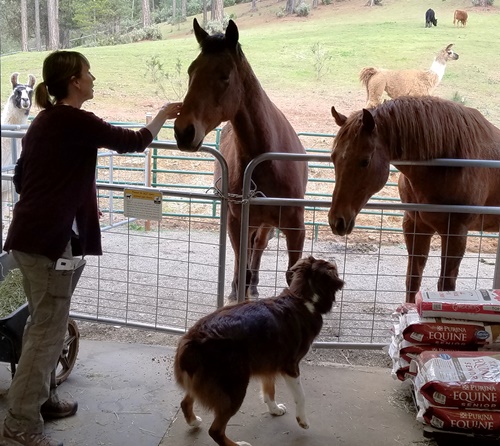 Our horses (Buddy the bay Mustang and Diamond Rio the chocolate gaited Rocky Mountain Horse, with photos included of our beloved Quarter Horses, Amigo and Tio too) are always eager for their afternoon treats, and enjoy attention and petting too. They are on top of the pasture pecking order due to their size, so we feed the big boys first. Our friendly geldings are the most likely to come up to you at the fence line for petting (be careful if we aren't with you since Rio can get nippy begging for carrots). Buddy has an adorable habit of licking your hand, just like a dog but with a really big tongue! See our Animal Extras page for riding and other horse activities for all ages and experience.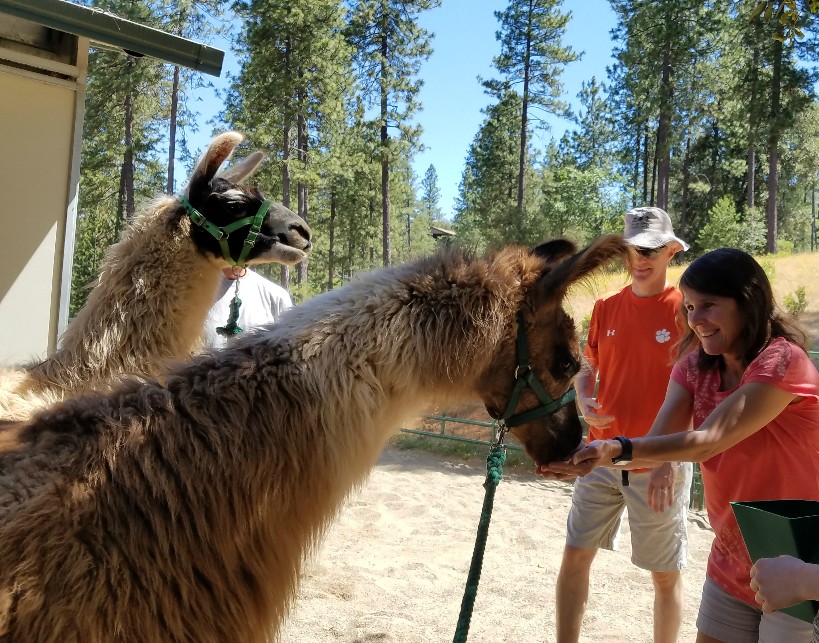 Our llamas (Llorenzo & Mozart, with photos of our beloved Zuni too) with their distinctive banana-shaped ears are a favorite for unique photos. They are very treat motivated and almost tickle your hand when nibbling grain from it. Llamas are highly sensitive (why they make great guard animals) so aren't fond of being petted by strangers but they are willing with the right treat motivation. You might even get llucky and get a kiss from Mozart and be humming "I kissed a llama and I lliked it"! Cyndi enjoys telling animal stories to anyone who wants to listen and most people enjoy learning about llamas. Llorenzo is a white Classic, a taller breed with less fiber so often used for packing, and Mozart is a brown Argentine which is a breed with heavy gorgeous fiber. We know you'll fall in love with llamas when you look into their big beautiful eyes. Read about our popular llama walks on the Animal Extras page.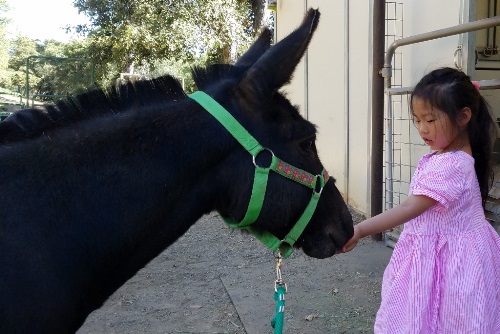 Our mini donkeys (Millie & Mo) are so cute and gentle taking treats from guests with their soft lips. They enjoy their "petting zoo" jobs. Motown (aka Mo, Mr Mo, Mo-Mo) is a black gelding and a well-trained boy in both riding and driving. He's had many small children ride on his back so is a unique experience for our smallest guests. The female jennet was rescued from a Texas kill lot and is so sweet with appreciation for her new life though still rather shy. She's classic brown/grey coloring with the donkey cross on her back. Between the horses, llamas, and mini donkeys, we have a lot of expressive ears at the Ranch!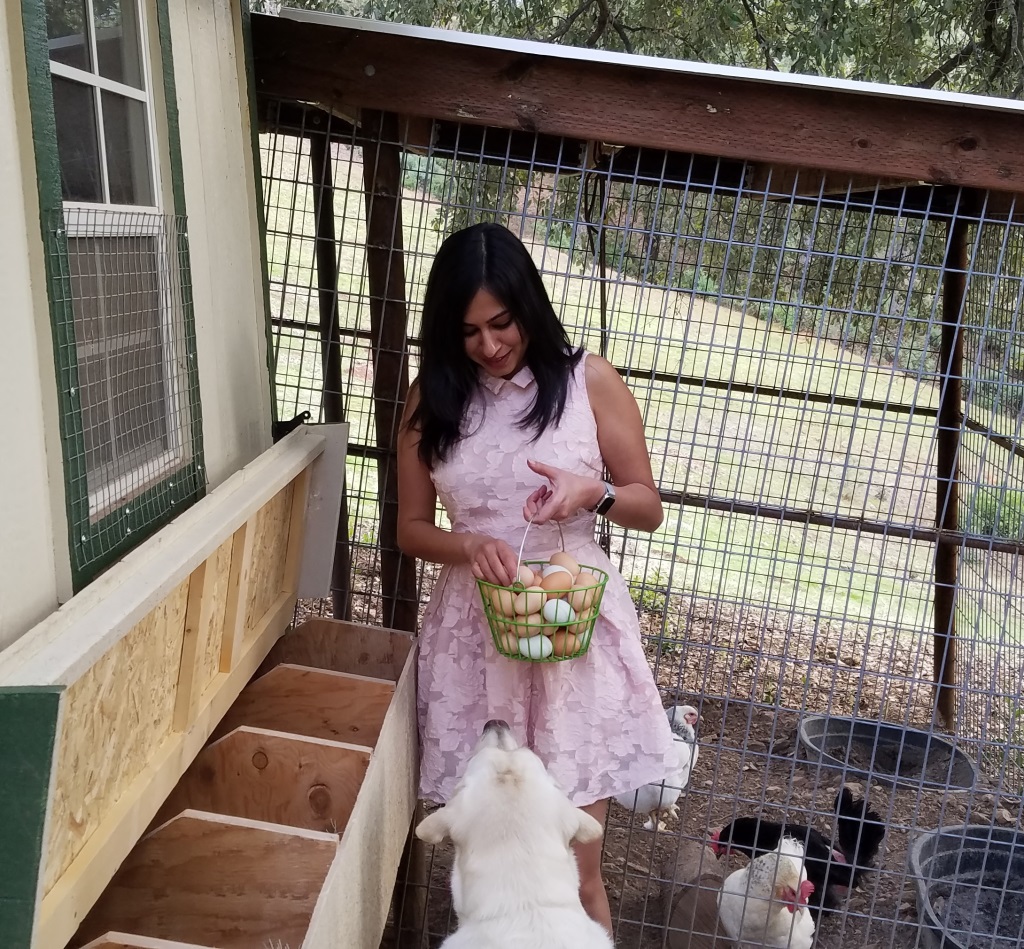 Our chickens know daily barn visits mean yummies for them as well so they come running to the fence to say "hi" providing an exciting experience for dogs to watch. Their favorite treat is dried worms which kids particularly seem to enjoy tossing to the hens. Guests who want to pet/hold a chicken are usually surprised with how soft their feathers are. Chicken races are a hit as well watching our hens waddle-run to get to the treats. We have a variety of breeds for a colorful selection of tasty eggs which guests can help us collect each day. We usually have extra chicken eggs that you can puchase.
Chickens are excellent workers spreading manure in our horse/donkey/llama pasture, PLUS providing daily eggs and guest entertainment. What's not to love about these girls?! In return for their contributions, Dog & Pony Ranch chickens have a wonderful life with high quality food, room to roam, toys to enjoy, and a large clean predator-proof coop at night. To learn more about our chickens, see our happy hens video.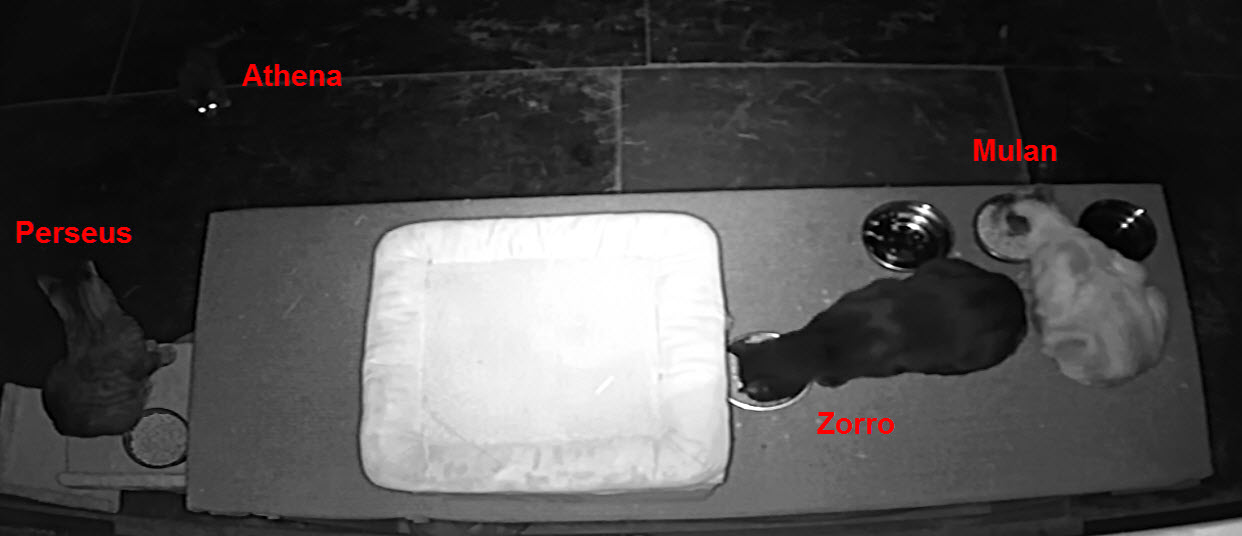 We also have barn cats -- our mouse warriors who help with rodent control around the barn -- but it's highly unlikely that you'll see them. These rescued feral cats are not the friendly domestic type and we only see them on the security cameras when they come in to re-fuel at night.
Are you wondering where our Dexter cattle went? We had such fun watching them grow from 6-mos-old weanlings to 2-yr-old mature heifers. A wonderful family purchased them in 2019 to start their Dexter breeding program so they've moved on to a new home to do an important job.

Please don't feed our animals except treats approved/provided by us - the mini donkeys could choke if you give them a carrot, and it has caused problems with our horses too.
Q: Will my dogs be safely separated from the other animals?
A: WE LOVE ANIMALS SO THEIR SAFETY IS A TOP PRIORITY TO US!!! Our horses, llamas, mini-donkeys and chickens are safely separated in a 10-acre pasture on the east side of the 60-acre property with ~4' high cross-hatched "field fencing" that should keep most dogs out of the barn animal areas. Our fencing is more secure than most rural neighbors who fence livestock typically with 3-strand wire. Keep in mind that this isn't just for our barn animals safety since your dogs/kids could be the ones seriously injured if get into the big animals' pasture.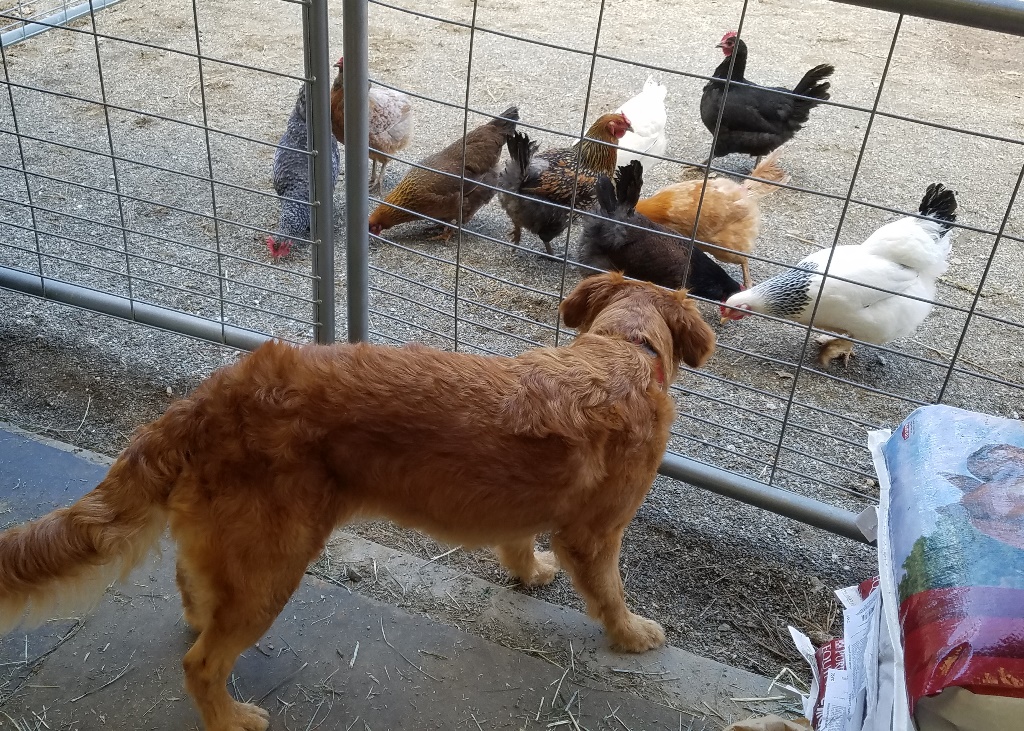 If you have very small or very determined high-prey drive dogs, we recommend that you leash them when walking near livestock pastures since they might find a way to go over or under the fence. Children should be supervised at all times as well to ensure they don't open gates and go into the animal areas. Guests allowing their dogs to harrass our animals, or people going into the horse / donkey / llama / chicken pens putting both themselves and the animals at risk will be asked to leave immediately per our rental agreement (our livestock areas are under constant video surveillance). So far, very few issues which means we're happy to continue sharing our unique dog-friendly farm-stay with rental guests!

More Photos!
We have so many wonderful photos of our happy guests (both 2 and 4-legged) who have visited us at the Dog & Pony Ranch since we opened for public rentals in 2013. See more favorite photos of guests interacting with our barn animals on Animal Fun at the Dog & Pony Ranch or in the carousel below to find out more about the animal experiences you can enjoy during your visit.