Optional Extras with the Barn Animals
Pasture-Raised Chickens Lay the Best Eggs!
Our guests often comment about how much better our chickens' eggs taste than anything they find in the store. One guest's post said it perfectly "All those brands that claim 'farm fresh eggs' have nothing on this! I actually picked out freshly laid eggs! It was so fresh that it was still warm!"
Not only are our ranch eggs fresher, but the eggs also taste better since our hens have the freedom to forage outdoors everyday giving them sunshine, exercise and a more varied/natural diet. We provide a complementary dozen eggs in the refrigerator for guests to enjoy, with additional eggs available for purchase (dozens available when hens laying the most from March - Sept).
Learn more about our darling chickens including seeing several chicken videos.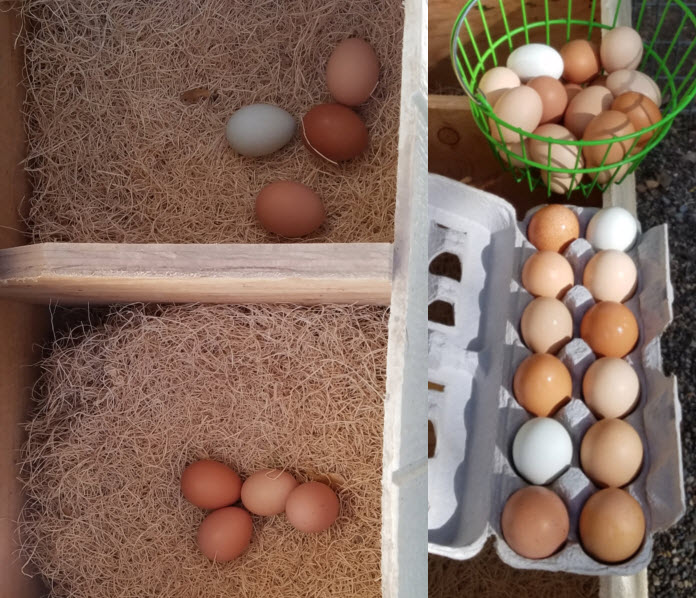 Llama Walks
Our evening llama walks have become very popular and guests are always delighted with the experience. Llorenzo and Mozart are very gentle so even children can lead them (with adult help depending on age). After a brief lesson with safety info, we catch/halter and practice leading the llamas around their paddock.
The llamas walk nicely at people pace up to our view spot which is a beautiful location for this unique photo opportunity. We help you pose with the llamas and send you a link to digital photos. On the way back to the barn, the llamas will show you how sure-footed and agile they are jumping over a log. Along the 1/2 mile loop, you'll learn more about these special animals and fall more in llove with llamas! Sorry, dogs not allowed on llama walks for everyone's safety.
$25 for a couple/family to take our 2 llamas on a ~30 minute walk with photos
Horseback Riding
Our gentle and well-trained horses are great for beginners. Our guests can learn to groom and tack the horse, get a lesson in the arena and/or a relaxing trail ride around the property. Buddy and Rio are our personal horses and past their heavy-riding days so only do light work (once/week riding max), but truly riding and controlling a horse is an awesome experience compared to a large group doing nose-to-butt trail rides.
Buddy (bay Mustang) is an awesome trail horse and we let him do a short trot/canter on one portion of the trail (if rider is ready for it); Rio (chocolate Rocky Mtn) is fun for more experienced riders wanting to try riding a gaited horse (Rio will do a smooth 4-beat gait about the same speed as a trot on other horses) and basic dressage moves like leg-yielding in the arena. Rio has also done a lot of "ground work" so is good to practice communicating with body language. Most often, our horses are led on "pony rides" providing a fun horse experience for beginners and kids.
Let us know what you have in mind and we'll customize some special horse-time for you. Many of our guests have never been on a horse before, and Cyndi's safety-focus and cautious nature is reassuring to them. Dogs must be on-leash or preferably confined at the house when people are out with the horses. Please let us know before your arrival if you'd like to book a horse riding session. Typical requests:
Lead-line "pony rides" in arena (best option for children under 8): $50 for 1 child/horse or $75 for 2 people/horses in a ~30-45 min session with photos.
Groom/tack/ride a horse in arena/trails (with instruction): $75 for 1 person/horse or $125 for 2 riders/horses in a ~60-90 min session with photos.
NOTE: We are not a large dude ranch nor rental string with lots of horses so we can't guarantee if or how many of our horses will be rideable at the time of your visit, especially since we lost one of our horses in early 2022.
Fall 2022 update: Due to age (Buddy is now 24) and recoverying from injury (Rio's suspensory), our horses can only do shorter rides with lighter weight riders (up to ~160 lbs). Many horses can carry heavier riders (Buddy used to be able to carry about 250 lbs) and both used to do long trail rides but unfortunately can't right now. Both can easily give kids pony rides, love their treats and cuddles, and are great for teaching people about grooming and safe handling of horses!
If you are looking for a trail ride for your group, there are several horseback riding options in the area we recommend.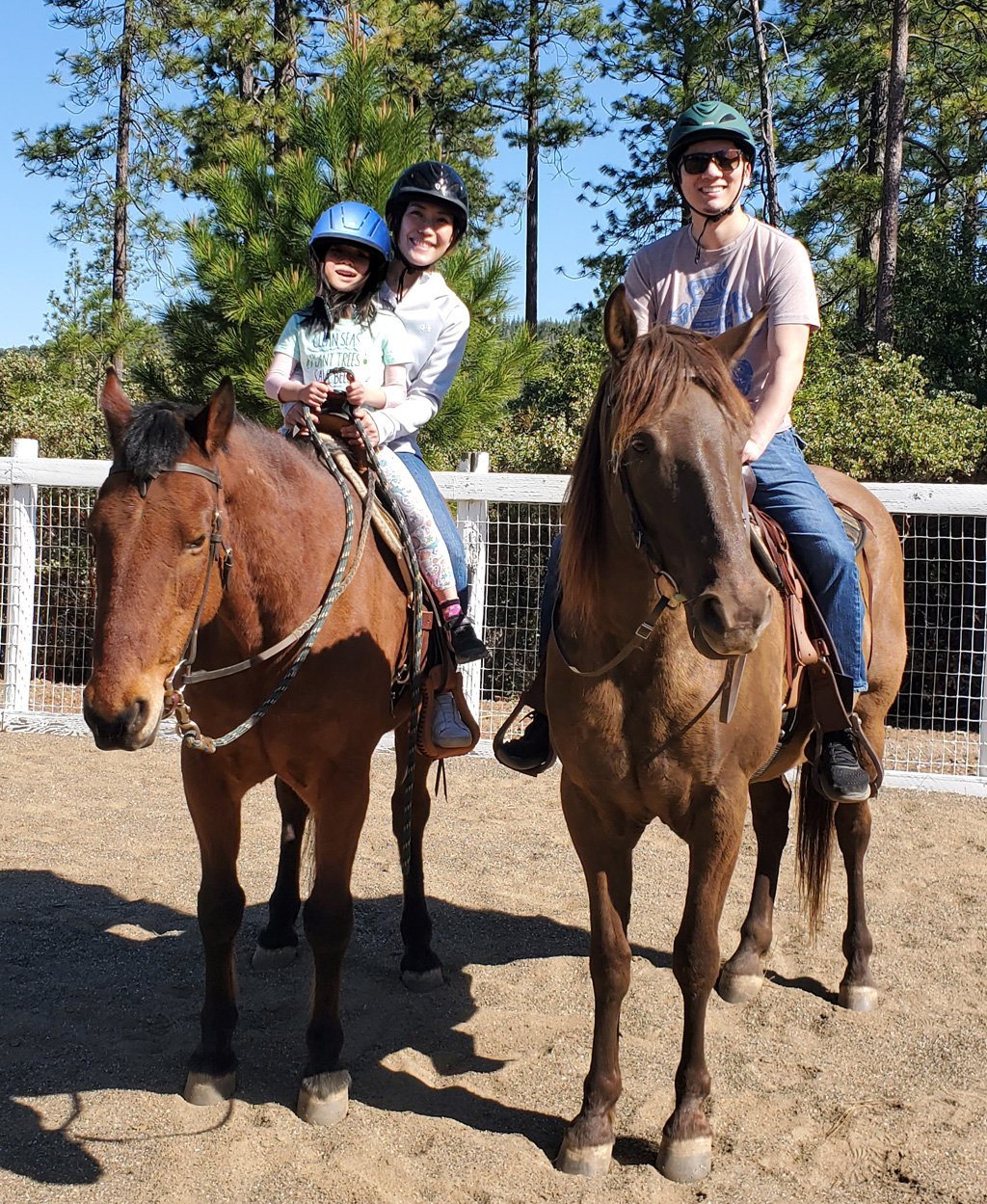 If you have your own horses and want to enjoy them while on vacation, see our Bring Your Horses page for details and info about our horse facilities.
More Photos!
We have so many wonderful photos of our happy guests (both 2 and 4-legged) who have visited us at the Dog & Pony Ranch since we opened for public rentals in 2013. See more favorite photos of guests interacting with our barn animals on Animal Fun at the Dog & Pony Ranch or in the carousel below to find out more about the animal experiences you can enjoy during your visit.